Brooklyn's Darmstadt: Flutronix
Throughout June, Brooklyn's Issue Project Room will host its annual Darmstadt Institute festival, which takes part of its name from the German festival and city Darmstadt. The Brooklyn festival's concerts, talk-backs, lectures and film screenings all offer a varied look into the avant-garde. Darmstadt Institute performer Allison Loggins-Hull of the composer/performer flute duo, Flutronix, talks about the group's musical upbringing and discusses the internet's role as a musical matchmaker.
---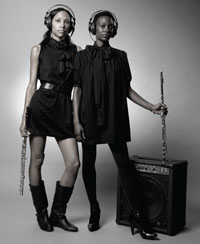 Flutronix performs Allison Loggins-Hull's Stacked
Flutronix is Allison Loggins-Hull and Nathalie Joachim. 
Did you ever think you'd meet your soul mate online? We definitely didn't, but it just so happens to be how Flutronix was born. Although we lived parallel music lives, it wasn't until a chance encounter on MySpace that our paths crossed. After individual journeys through classical upbringings, each of us found ourselves taking a deep interest in composition and mixed media. We each made it our mission to seek out new artists, and take in as much new music as we could. When we both stumbled upon each other on MySpace, the musical chemistry was undeniable.
The real beauty in working with each other is that we both bring truly unique creative ideas to the table. A lot of this is the result of our previous experiences, both within and outside of our music. From being "regular" kids who loved classical music, to being college students beginning to experience adult life, to becoming artists who afforded ourselves opportunities to create outside of our classical music comfort zones. Our adventures through conservatory culture and popular culture undeniably shaped our artistic vantage points.  
Beyond that is our thirst for music: all kinds of music. Hip hop, drum & bass, indie rock, electronica, classical, reggae--each genre is a thread in the musical fabric of Flutronix. It's almost as if we've spent our whole lives downloading the structures of these styles into our subconscious, only to find ourselves with an arsenal of artistic tools.
Together, our ability to draw upon our experiences as artists, women, students, and young adults, paired with the influence of varied musical styles, has culminated in a fantastic collaboration. Not only between the two of us as a duo, or our work with other artists, but a true collaboration of our journeys. 
So here we are. We've had a great year of performances, partnerships and opportunities. Continuing with this momentum, our next show at the Issue Project Room on June 10 as part of the Darmstadt Institute will add to what's already been a great season. Did we ever think that all of this would come from a chance meeting on MySpace? No. But, we're really glad it did. 

The Darmstadt Institute
June 2010 at Issue Project Room
Flutronix will perform June 10 at 8:30 p.m., followed by a performance of the music of Katherine Young.
More information »