DIY Recycling and Electric Junkyard Gamelan
Now in its 15th year, the International Festival of Arts and Ideas is a music, theater, and dance festival that takes place in New Haven, CT's historic courtyards, auditoriums and theaters. Festival highlights include a performances by Brooklyn's Electric Junkyard Gamelan, a percussion ensemble that builds its own instruments from found objects, Phillip Glass' performance of his solo piano music and a concert featuring the chamber ensemble repertoire of Pulitzer Prize-winning American composer Christopher Rouse. With the festival's "arts and ideas" theme in mind, EJG founder Terry Dame describes the path that led her toward green instrument building.
---
By Terry Dame
In 1998 I bought a 60's mobile home on 5 acres of land in the woods and simultaneously started my percussion based music ensemble, Electric Junkyard Gamelan. The group plays my original groove driven compositions on instruments I design and build. Although they may seem unrelated, they are oddly enough not dissimilar. Both are huge undertakings requiring my attention, creativity, patience, skills and money. Two big art projects, the evolution of both still amazing me 12 years later.
I began making music with objects in grad school at Cal Arts where I was getting a Masters in Composition and Performance. My thesis was a live music and dance collaboration called "Women's Work" and my self-imposed task was to compose for objects found in "traditional" domains of women's employment. This was my intro into composing for objects and led to the construction of my first instrument, the Rubarp, an electric rubber band harp that is today an integral part of the group's instrument arsenal. I learned to make contact mics and began sticking them on everything I could find. Mixing these sounds up with my recent discovery and influence of Balinese gamelan's interlocking rhythms and overtones and I was off down a whole new musical path. These were the seeds to what is now Electric Junkyard Gamelan. When I returned to NYC I was asked to compose for objects found in an auto body shop…some rusty metal stuff, pipes, old bells, saw blades, electric drills and a coffee grinder and soprano sax. I think this was the very first EJG gig.
I've recently gone down into a plumbing vortex at "the trailer" as it is known to those close. It has become a can of worms odyssey of fixing one leak only to create another. It seems there are often seven different ways to achieve the same goal and although it is totally frustrating I do really enjoy figuring out the system of it all. My way of making music involves a lot of systems as well. The magic for me in inventing instruments from found objects is how that object informs everything about the instrument it will become from the sounds it makes to the way it's played to the compositions made for it. It has its own inherent system, built from ideas with no rules on how to do it. That's the beauty of creating something original, of inventing your own way, no rules just life, art and ideas all mixed together to bring life to a new musical expression.
EJG will be performing at International Festival of Arts and Ideas in New Haven on June 23rd. Arts and ideas, two great tastes that go great together… When I return, I will get back to solving my plumbing issues. Both will be their own challenge, but when that water flows and those musical ideas sail, both will be oh so satisfying.

International Festival of Arts and Ideas
June 13-23 in participating New Haven, CT venues
Electric Junkyard Gamelan perform Wednesday, June 23 at 12 p.m. & 1:45 p.m.
More information »
                               Take a look at some of Terry Dame's instruments, made from found objects.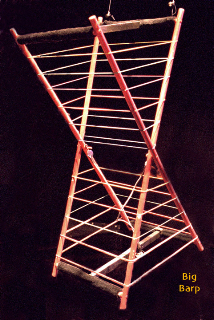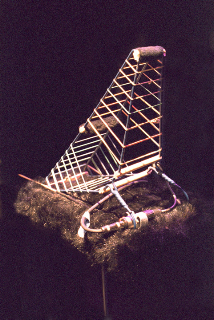 The "rubarp"

Check out a few clips of Electric Junkyard Gamelan performing in several New York Venues.