Vassily Primakov Plays Schubert and Mozart
Vassily Primakov was just 15 when, in his native Russia, he cinched the first prize in the Rachmaninoff International Young Pianist Competition. More awards followed over the next few years and, in 2002, Primakov won first prize in the pivotal Young Concert Artists International Auditions. Now that he's 30, just how good is this guy? Two new recordings provide some answers. A collection of Schubert's dances and impromptus and a set of four Mozart piano concertos form this week's Full Rotation.
Primakov came to the U.S to study at Juilliard at age 17, but by then the Moscow native was thoroughly schooled in the Russian style of playing. His performances combine a prodigious technique, keen sense of drama and strong interpretive ideas. He's an exciting player to watch too, often playing trance-like, seemingly carried away by the music. He's made several recordings on the small but distinguished Bridge label, the most recent of which is a collection of Schubert's impromptus and short dance pieces.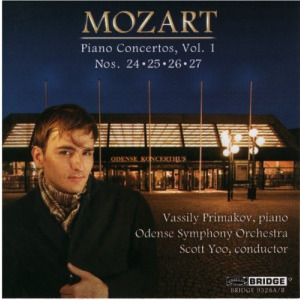 Schubert composed some 400 short dance pieces (waltzes and ländler) of which Primakov has selected 26 waltzes and 13 ländler. Heard in small doses these miniatures abound with melodic turns of phrase and striking harmonies that remind us of why Schubert is hard to resist. So is pianist Primakov's crisp articulation, stylish flair, and obvious affection for these unpretentious gems. He inflects the repeats with subtle changes in dynamics and rubato that somehow manage not to sound predictable, while lavishing unfussy care over ornaments. Six impromptus are also included, haunting works composed in the final years of the Viennese master's brief life. Primakov allows the lieder-like qualities to eloquently sing out against a firmly structured accompaniment.
Mozart's piano concertos are a far cry from the barnburners in which Russian pianists typically excel.  But Primakov tempers his virtuosity in his readings of Nos. 24 through 27, allowing the many details to emerge. There's nothing affected or fussy about his performances, and Denmark's Odense Symphony Orchestra led by American conductor, Scott Yoo, provides balanced accompaniment throughout. This two-CD set is the first installment of a complete cycle of Mozart Concertos for Bridge.
Schubert: Impromptus & Dances
Vassily Primakov
Bridge
Available at Arkivmusic.com
Mozart Piano Concertos
Odense Symphony Orchestra
Scott Yoo, conductor
Bridge
Available at Arkivmusic.com