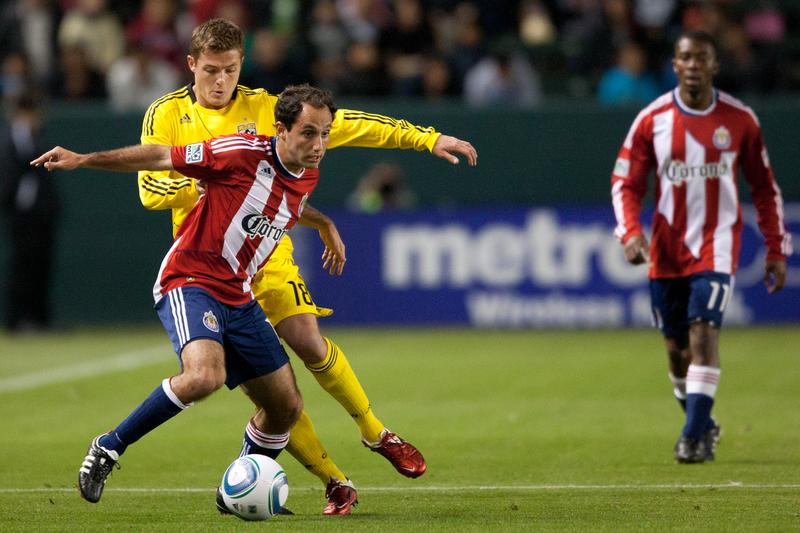 This feature originally ran in 2010.
The World Cup is a highly musical event, full of national anthems, novelty songs and, of course, the drone of vuvuzelas. But there's also a rich layer of soccer-related classical music dating back over a century. Here are five standouts.
1. Elgar's chant for the Wolverhampton Wanderers
Edward Elgar was an diehard supporter of England's Wolverhampton Wanderers club and legend has it that he regularly cycled all the way from Worcester (a 40-mile trip) to watch games during the 1890s. In 1898, he was so taken with a phrase in a newspaper report that said his hero Bill Malpass had "banged the leather for goal" that he set it to music. Some claim this is the first-ever football chant. Today, Wolves fans reportedly sing Nimrod from Elgar's Enigma Variations at home matches.
2. Shostakovich: The Golden Age
In his lighter moods, Shostakovich was fanatical about soccer and was even a qualified referee. His favorite team was Zenit Leningrad (now league champion Zenit St. Petersburg) and he kept a notebook detailing scorers. His 1929 ballet The Golden Age told the story of a vigorous young communist soccer team that traveled to the West and whose wholesome sportsmanship had the capitalists joining their cause. The music is sardonic and fast-paced with touches of jazz and it includes a climactic soccer match in Act II.
3. Bohuslav Martinu: Half-Time, a Rondo for Large Orchestra
In his Half-Time, the Czech composer Bohuslav Martinu (1890-1959) was inspired by the half-time atmosphere at a Czech-French soccer match in 1924. Full of vivacious, energetic rhythms and audacious harmonic techniques, the rondo suggests the influence of Stravinsky.
4. Mark-Anthony Turnage: The Silver Tassie
Mark-Anthony Turnage's 1999 opera tells the story of a young Irish soldier in 1915 who just before returning to the Western front wins a soccer trophy, the Silver Tassie. When he returns in a wheelchair he is shunned by the society that once lionized him, his vanished heroism illustrated musically by a mocking memory of football chants. After its premiere by English National Opera in 2000, it was hailed as a masterpiece. Turnage, who is a fan of England's Arsenal soccer club, also includes a terrace chant in his orchestral piece Momentum.
5. Michael Nyman: After Extra Time

Michael Nyman released After Extra Time, a whole album of soccer-related pieces. It includes the title work composed for the 1996 European Championships; The Final Score, a tribute to his team Queens Park Rangers; and Memorial, written for fans killed in a riot before the 1985 European Cup match between Juventus and Liverpool. Additionally, Nyman's string quartet, Beckham Crosses, Nyman Scores, was written during the 2002 World Cup. The piece transforms the rhythm and contour of phrases of play-by-play commentary for the England-Argentina game into fragmented musical lines.
Do you have a favorite soccer-themed piece or song? Tell us about it.