7 Spooky Classical Pieces For Your Halloween Playlist
Tuesday, October 25, 2016 - 10:18 AM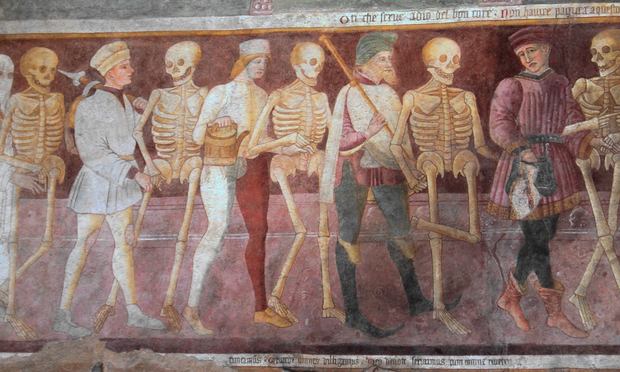 (Bergamo Clusone/Wikimedia Commons)
You've placed skeletons in the doorways and put the finishing touches on your jack-o-lanterns. Pumpkin seeds are roasting and there's more candy than you know what to do with. All that's left are the tunes. So, in the spirit of the season, we're sharing some creepy classical jams that no Halloween playlist should be without.
Danse Macabre (Camille Saint-Saëns)
The "Danse Macabre" ("Dance of Death") is a motif from medieval art that serves as a reminder that death awaits us all. The paintings often featured parades of skeletons gleefully leading everyone — rich and poor, old and young — to the grave. Saint-Saën's musical representation of the dance starts sweetly enough. It opens with a tranquil harp, but when it strikes 12, the death's violin waltzes on in.
Der Erlkönig (Schubert)
In Der Erlkönig, a father races home on horseback. His son is safely with him ... or so he thinks. The boy cries out that he is being attacked by the Erlköning, or evil king of the fairies. But parents just don't understand, and the father assures his son that the frightening specters are just the wind, fog and rustling trees. But when they reach their destination, he finds his son is dead.
Toccata and Fugue in D minor (Bach)
First thing's first: we aren't entirely sure who composed this frightful favorite, but the oldest attributions are to J.S. Bach. But seriously, what is it about the organ in this piece that's so creepy? Maybe it's the intense layering of sinister sounds. Or the notes sneaking upwards, only to cascade down into a sonic soup. Whatever the reason, no classical Halloween playlist is complete without this favorite.
Devil's Trill (Giuseppe Tartini)
One night in 1713, Tartini had a wild dream. The devil appeared and a classic deal was struck: in exchange for his soul, the devil would be the Tartini's faithful servant. Tartini went on to test the devil's musical abilities by giving him a violin. It turns out that the devil was pretty good, and produced the greatest sounds Tartini ever heard. When the composer woke up, he scrambled to write down what he could remember. The result? This fiendishly difficult violin sonata.
"Don Giovanni, a cenar teco", from Don Giovanni (Mozart)
In this scene, professional sleaze Don Giovanni is confronted by the haunted statue of a man he had killed. The statue gives Don Giovanni multiple opportunities to repent for his chronic womanizing, but he refuses. Justice is administered — the earth opens and Gio is dragged into the depths of hell.
Totentanz (Liszt) 
Franz Liszt was obsessed with death and the macabre, and it really shows with Totentanz. For starters, the piece extensively quotes the Gregorian chant Dies Irae, a spooky tune in its own right. Liszt also alternates between flowing melodies and percussive — at times violent — counterpoint. It's pretty intense, just like life itself.
"Witches Sabbath" from Symphonie Fantastique (Berlioz)
Like Totentanz, the final movement from Symphonie Fantastique incorporates elements of Dies Irae. But the frights here are next-level. As Berlioz noted in his original program notes, the music is meant to conjure up images of "a hideous gathering of shades, sorcerers and monsters of every kind." With those ominous horns and that foreboding bell, Berlioz made his ghastly vision come to life.
There's so much more classical music that could be in your ultimate Halloween playlist. What will you be listening to on fright night?
More in:
James Bennett II is a staff writer for WQXR.
The WQXR e-newsletter. Show highlights, links to music news, on-demand concerts, events from The Greene Space and more.