7 Stories that Show Mozart's Weird Genius
Monday, January 23, 2017 - 06:53 PM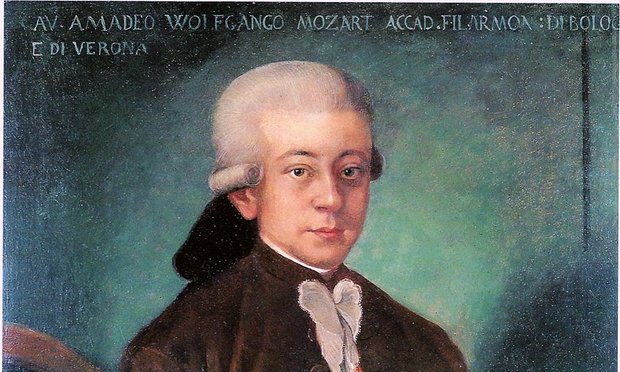 (Wikimedia Commons)
Mozart may have been a genius, but he was also a bit of a strange guy. Check out the stories behind these seven incredible compositions.
Miserere (Allegri Transcription)
Gregorio Allegri's ethereal choral work was written back in the 17th century to be sung exclusively for two services during Holy Week, some of the most solemn days in the liturgical calendar. The Vatican defended this sacred work like Michael Jordan's Bulls defended NBA titles — anyone caught with an unauthorized copy or transcription would be punished with excommunication. But in 1770, when Mozart was 14-years-old, he couldn't have cared less about the rulebook. The story goes that he traveled with his father Leopold to the Vatican to hear the work on Holy Wednesday, and wrote a transcription from memory. On Good Friday, he snuck his copy into the service in order to make necessary corrections. His father discovered the illegal project, but instead of freaking out, he was committed to getting the music out of Rome undetected. When it was published in London a year later, Pope Clement XIV ordered the boy to Rome, where he showered the prodigy with praise and conferred upon Mozart papal knighthood. So much for consequences.
Overture from Don Giovanni
There's a couple conflicting accounts of exactly what went down with the Don Giovanni overture, but they all involve some combination of late nights, procrastination and a few too many drinks. One popular account comes from Georg Nissen, an Amadeus superfan who not only wrote a biography of the composer, but also married the widowed Constanze Mozart. The night before the opera's deadline, Mozart still hadn't written the overture. He saw a long night ahead of him and kindly asked Constanze to provide him company as he burned some midnight oil. She tried to keep him awake with punch and poetry readings, but the combination just accelerated his sleepiness. Mozart went to sleep on the couch, intending to take just a one hour nap, but ended up sleeping like a rock until 5 am. When he woke up, he banged out his overture and delivered it to the copyists two hours later.
Piano Concerto No. 26, "Coronation"
If you take a look at the autograph for Mozart's Piano Concerto No. 26, you'll notice something a bit odd, even if you don't read music: there's a lot of blank space in the piano part. That's because Mozart was really good at improvising on the piano. This piano concerto isn't the only composition he wrote with missing music, but it's one of the best examples. Some have argued that he did this to save time — if he were the one premiering the work, there would be no need to have it completely written out. He could just write up a sketch and then improvise once he was on the concert stage. Improvisation wasn't exclusive to Mozart — lots of talented performers were expected to add their own ideas to the piece at hand. But even then, you might be able to see some guidelines written down. Mozart, though, just needed some blank space.
"A Musical Joke"
Between his dirty mouth and, let's say, unsanitary humor, Wolfgang Amadeus Mozart found himself to be quite a funny guy. He took great pleasure in letting his laughs carry over into his music, especially with this piece, composed during the later years of his short but prolific life. In it, our hero sets out to break every musical rule in the book. His exact motives are unknown, but some have believed that he wrote this as a slight to other composers and musicians that just weren't as good as he was. The music is repetitive, the chords are dissonant and the brass is attempting acrobatics that no self respecting brass section should do. And that ending? Pure comedic gold. You can spend hours dissecting the particulars about everything that is wrong with the music, but he pulled it off with techniques that wouldn't be regularly seen until the 20th century. So in a weird way, it was also ahead of its time.
Mass in C Minor
The circumstances surrounding Mozart's marriage were not ideal. Before Mozart married Constanze, she fell ill. On top of that, father Leopold was not the biggest fan of their courtship. Distressed, he promised himself that he'd write a Mass and premiere it in Salzburg if she got better and they tied the knot. The following year, Mozart mentioned this vow in a letter to Leopold, along with confirmation that he had finished half of it. But like many of us who make promises in times of crisis, Mozart found himself second guessing the whole "I swear" thing after the episode ended favorably. He didn't exactly follow through, and even though he did premiere the work — with Constanze singing the soprano part, no less — it was left incomplete. And somehow, it still sounds perfect.
Trumpet Concerto
Mozart's lost trumpet concerto is indeed a lost work and we only know he wrote it because Leopold mentioned it in a letter. But what's far more interesting than it being lost, is the fact that it's the only one (we know) he wrote. Why? Mozart was terrified of trumpets. In the recollections of a family friend, we learn that the very sound made made Mozart "turn pale and begin to collapse" and holding a trumpet in front of him was like "aiming a loaded pistol at his heart." In a misguided attempt to help his son overcome his fear, Leopold had that same friend blow his trumpet at the boy. Needless to say, it didn't work. Good thing that fear didn't carry over to the horn, or else we wouldn't have one of his best known works.
Requiem
This is less a weird story about Mozart and more about the business savvy of his wife. It started when a shady count named Franz von Walsegg anonymously commissioned a requiem for his recently departed wife. He had every intention of taking Mozart's completed work and passing it off as his own, but Mozart died while the work was in progress. But Constanze was keen on collecting that sweet money and had another composer finish it up. She forged her late husband's signature, sent it off to von Walsegg and collected her family's dues. Congratulations Franz, you played yourself.
More in:
James Bennett II is a staff writer for WQXR.
The WQXR e-newsletter. Show highlights, links to music news, on-demand concerts, events from The Greene Space and more.