Finland's Time of Music Festival: Days 1-3
Finland is home to the longest-running festival of contemporary music in Scandinavia, Time of Music. Participating composer, performer and program writer, Matthew Whittall reviews the week of performances on-site, right from the lake country town of Viitasaari. Originally a Canadian, Whittall studied composition and performance in the states, but he now resides in Helsinki, where he is a composer, teacher, and music writer.
---
By Matthew Whittall
July in Finland is a generally slow month, when the cities empty of locals and most people vanish into cottage country for some R&R, with sauna and lake swimming under the glow of the summer sky figuring prominently. July is also the month when the musical lifeblood of this already musically active country flows out the extremities in the form of dozens of festivals in small localities throughout the provinces, covering every genre from contemporary classical to jazz, tango and heavy metal. For those who've read the meme that Finland "punches above its weight" musically and wondered why, the summer festival scene is a huge part of this nation's success in world musical terms.
I'm currently in residence in the Central Finland lake country town of Viitasaari (See the "A" below), at the Time of Music festival, one of Finland's premiere New Music summer event.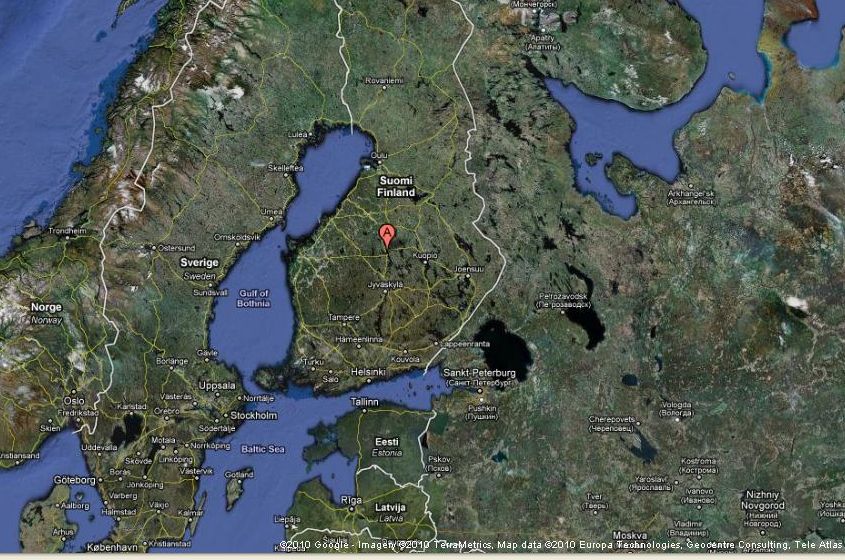 Founded in the early 1970s by composer Jukka Tiensuu, and now in its second edition under current artistic director Perttu Haapanen, the festival combines performance and teaching with extensive community involvement over its six-day duration. Time of Music, while striking a balance between the local and international in its programming, has always been a strong venue for the performance of Finnish music. Under Haapanen's direction, there has been a marked swing toward the 30-something generation of emerging composers, from both Finland and abroad.
The guest this year is the Italian composer and educator Marco Stroppa, whose works will be performed on nearly every program. Stroppa's music, from what I've heard so far, is an interesting blend of influences, with echoes of Impressionism in the background, and the strong colorist orientation of the French spectralist school. The opening concerts, while competing for attention with a rather more popular event, have so far been well-attended by what seems to be an even mix of local residents and musicians from around the country.
Tuesday night's opening event, played to a packed house at Viitasaari's historic church, provided a nice overview of the festival's program, with works pithy and epic for a range of ensembles including solo piano (quite literally) and voice. On an engaging, varied program, the standouts were Finnish composer Sami Klemola's Hyper, a piece of wildly contrasting moods and techniques for piano, cello, Yamaha Disklavier and electronics, performed by the Helsinki-based electro-acoustic band defunensemble, as well as a performance of Pierre Boulez's massive Sonata No. 2 for piano by Paavali Jumppanen, who recorded the complete Boulez sonatas for Deutsche Grammophon a few years ago. He returns later in the week to play music by Stroppa and Messiaen.
The following day, defunensemble returned to perform their own program of live-electronic music, the big event being the premiere of Erinnerung by the young Finn Ville Raasakka. A kind of mini-concerto for piano, ensemble and electronics, the piece was fleet and captivating, with no small amount of that oh-so-rare element in new music: humor. Was that a warped rendition of Twinkle, Twinkle, Little Star that kept popping to the surface? Pianist Emil Holmström dispatched the challenging solo part with aplomb. The concert also featured Jonathan Harvey's extensive Advaya, a spacious, meditative piece for cello and live electronics.
The evening concert featured French ensemble TM+ in a program of small-ensemble works for two to six players. The performers' energy and focus were a palpable presence in the brightly sunlit parish hall where they played. All the pieces were convincing in their own way, but the works that made the most positive impression on me were Stroppa's duo for viola and accordion Nous Sommes l'air, pas la Terre ("We are the Air, Not the Earth"), a dark, deeply expressive piece in which the two instruments try to become one another, fusing their distinctive timbres together, and Jean-Marc Singier's Traces et Strettes en Strates... en Strophes ("Traces and Stretti in Strata... In Strophes"), whose Spectralism-meets-Downtown groove gave it a fresh, appealing sound.
The entire TM+ program will be streamed online in the wake of its recent live broadcast, as will a number of other programs throughout the week. Upcoming highlights include concerts by defunensemble and the German-Icelandic group Adapter, as well as a visit by the Helsinki Chamber Choir and the first performance in Finland by the Tokyo Philharmonic Chorus in a Japanese-Canadian program. I'll post links to those concerts which can be streamed outside Finland as they become available. Happy listening!