Featured CD: Einojuhani Rautavaara
Finnish composer Einojuhani Rautavaara might not yet be a household name here in the United States, but with the release of a 4-CD set of his complete concertos, that might change. Tune in to Q2 all this week as we feature these concertos and other pieces from his vast and exquisite catalogue.
All this week we feature Rautavaara's concertos- a good place to get a sense of what a singular artist he is. He's taken modernism's thorny complexities and filtered them through a sensibility inclined towards peace and resolution. His titles, such as "Angel of Dusk" and "Dances with the Winds," hint at his mysticism but capture what could be seen as a Finnish affinity for long melodic lines over rustling, complex harmonies. You get the sense of great, celestial bodies hurtling toward each other, but at the last moment passing harmlessly by. We welcome your thoughts on his music.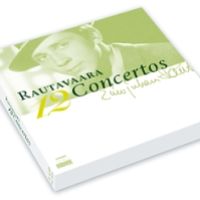 Rautavaara was introduced to the United States in 1955, when a then 90 year-old Jean Sibelius awarded him a scholarship to study at Juilliard. He is now considered the elder statesman of Finnish Music, having shaped several generations of Finnish composers, including Esa-Pekka Salonen, Magnus Lindberg, Kaija Saariaho, and Tapani Länsiö.
Listen to the above excerpt from his Piano Concerto No. 3, "Gift of Dreams."