Varèse and the Cello Theremin: A Love Story
As a cellist, Jonathan Golove is at ease in both the Western classical tradition and in contemporary art music. Since his participation as the cello theremin player in a performance of the Varèse work, Ecuatorial, at the University of Buffalo (where he also teaches cello), Golove has extensively researched this theremin-related instrument. Below, Golove colorfully profiles the relatively obscure cello theremin while describing Varèse's attraction to it.
---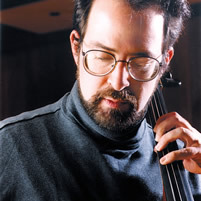 Varèse and the Cello Theremin by Jonathan Golove
A couple of Varèse quotes shed some light on this remarkable composer's desire to work with the latest electronic musical inventions:
"I dream of instruments obedient to thought."¹
"I don't want to write any more for the old Man-power instruments and am handicapped by the lack of adequate electrical instruments for which I now conceive my music."²
Varèse, with his spatial and geometric ideas of sound and sound projection, was the classic early adopter of new technologies. He came to Leon Theremin for specially designed cello (or fingerboard) theremins, having worked already with both primitive (siren, mechanical) and sophisticated (ondes martenot, electrical) generators of new sounds. For Ecuatorial, he made the decision to compose for Theremin's instruments, but the departure of Theremin in 1938 (he returned to the Soviet Union and was not heard from in the West for decades) made the continuation of the project with these amazing inventions impossible, following its somewhat disastrous 1934 premiere. Ultimately, he settled on (and for) the ondes, in the published score of 1961.
The significance of the cello theremin far exceeds the few, rather impressive uses to which it was put during the inventor's time in New York, the most salient of which are Leopold Stokowski's inclusion of one in the Philadelphia Orchestra's low string section and Varèse's composition of two solo parts in Ecuatorial. Rather more important, from a certain point of view, is the fact that the instrument represents the first attempt to harness the human potential to shape and manipulate electronic sound by means of the technical apparatus of the modern player of bowed string instruments, a technique which had centuries of development behind it, but was still bound up with instruments created in a pre-technological age. Consider that virtually every other pioneer of electronic instruments, with the notable exception of the inventors of the electric guitar, worked with the keyboard model, for several decades after Theremin's departure from New York. That is to say, in most of the electronic instruments built until the 1970s, sounds are controlled by means of a keyboard player's technique, in many cases not even a highly refined version of that technique. But why limit the control mechanisms to the keyboard?
Theremin, the pioneer, had worked with keyboards as well, but is best known for his space-controlled mechanism, by which the performer moves his hands in the air without making contact with any physical object, as well as for a dance floor controller which responded to a dancer's movements, the fingerboard instrument used in Ecuatorial, and other ingenious control devices. Fascinatingly, contemporary instrument designers have returned to most of his ideas, usually in conjunction with computers.
I came to the project of learning to play the cello theremin for a performance of Ecuatorial at the University at Buffalo in 2002, the first time the work would be heard with the instrument since its 1934 premiere. There were three points of contact: David Felder, artistic director of the Slee Sinfonietta, who had programmed the work; Olivia Mathis, a musicologist and scholar of both Varèse and Theremin; and Floyd Engels, who had built beautiful replicas of this long-forgotten instrument (in the project's background was Robert Moog, the great updater and popularizer of the space-controlled theremin). As a modern electric cellist, I was intrigued by the challenge, and as an admirer of Varèse's music, delighted that I would have the possibility to play a soloist role in a great work by this master who wrote so infrequently for strings. In my view, Varèse's choice to work with this very new and little-tested technology is evidence of his visionary mindset, and I believe it represents an advance on his work with sirens (as in Ionisation, the project which immediately preceded Ecuatorial): a pure-toned wailing over which a player could have precise control of both pitch and dynamics. One might also say it was a step in the direction of "instruments obedient to thought."
Varèse, 1917, translated by Louise Varèse. Quoted in The Liberation of Sound, Art-Science and the Digital Domain: Contacts With Edgard Varèse by Jean-Claude Risset (Contemporary Music Review, Vol. 23, No. 2, June 2004, pp. 27–54)
From a letter to Leon Theremin, dated May 5, 1941. The complete text of the letter, which was finally delivered to Theremin by Olivia Mattis in 1989, can be found here.
---
Varèse (R)evolution: The Complete Works of Egard Varese
July 19 and 20, 2010 at Lincoln Center
Alan Gilbert and the New York Philharmonic; Steven Schick at the International Contemporary Ensemble (ICE); So Percussion; Oratorio Society; Musica Sacra; and many featured soloists. Jonathon Golove will perform in the July 19 program.
More information »