Singers from the Metropolitan Opera put on a great show for their first recital of the season, at SummerStage in Central Park. As I sat there listening, I couldn't help noticing how diverse the audience was.  People of every age, ethnic background, gender identification, you name it, all out there enjoying opera on a summer night.
That reminded me of a statement Congressman Dana Rohrabacher of California once made--that public broadcasting was only for a select few to listen to "their" opera and watch "their" ballet. I was furious (and still am, all these years later) at the implication that the arts were something only certain people could appreciate.  More access to the arts, through public radio or public concerts, is good for everyone.
 
As the crowd started to leave, I noticed an entire happy family: mother and daughter dancing and singing to the strains of La Traviata, younger sister perched on her father's shoulders. On my way out of the park, I was lucky enough to meet up with them, and (probably no surprise) the Parkinsons turned out to be huge fans of WQXR. In fact, they even knew what piece (the "Flower Duet" from Lakmé) I aired right before leaving for Central Park that evening!
And they had a new convert with them. A family friend had been visiting that afternoon, and six-year-old Cerena and five-year-old Hopelyn Parkinson had invited her to come to the concert with them. Birdette Parkinson, the girls' mother, told me that their guest had never listened to classical music before, but she had a great time, and is eager to go back. Whose opera? Whose ballet? EVERYONE'S.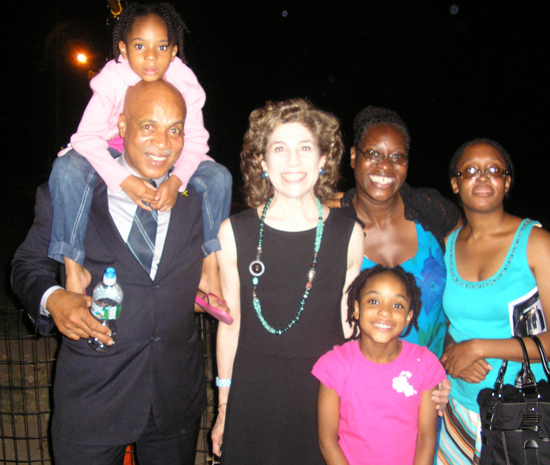 From left to right: Mark Parkinson, with his daughter Hopelyn on his shoulders; WQXR's Naomi Lewin; Birdette Parkinson, with her daughter Cerena in front of her; and Shanna Little at SummerStage in Central Park. (Sharon Hessney)