David Lang, Match Girl Passion and Coffee Mugs
Bang on a Can founder and recent Pulitzer Prize-winning composer David Lang shares an exclusive story behind his work, The Little Match Girl Passion, which receives its American choral premiere this Sunday at 8pm, live in The Greene Space. Click here to watch video from the event.
WNYC has been a powerful presence in my life and in the life of all music lovers in New York. It is really one of the reasons why there is so much and such diverse music in our city.
But since this is a blog among friends, I can tell you something silly and WNYC-related that I have never told to anyone else before. So keep it under your hat, between us, entre nous, on the down low. Here goes:
One morning in April 2008, I was in a terrible mood--I was in the studio all that month making music for the movie (Untitled) and I was cranky about it. I had never done a film score before and I didn't really know how, (still don't...), and I was getting frustrated.
Every morning I would wake up and drink way too much coffee before going off to the studio. I drink my coffee out of mugs that show a wide variety of places that I have been and things I have done. I have a mug from the Dog Team Tavern in Middlebury, Vermont, since burnt down (the restaurant, not the mug), a souvenir mug from Tivoli Gardens in Copenhagen, a Dodgers World Champions 1988 mug, a mug my students gave me after teaching at Princeton for a semester that says PRINCETON, originally enough. We have a lot of coffee mugs.
That April morning, I was drinking out of the WNYC mug that my wife and I got for being contributors. I drank a few hundred cups of coffee out of the mug and went to the studio. Later that morning I got a call from NPR asking me how I felt. "About what," I asked. "About winning the Pulitzer Prize, for The Little Match Girl Passion." "Holy expletive" I yelled. And then I felt really good.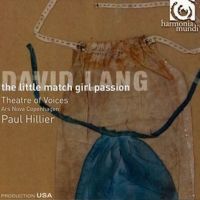 Ever since then I associate my Pulitzer Prize with my WNYC coffee mug - whenever I have something happening for which I could use a little extra good luck I drink my morning coffee out of my lucky WNYC mug.  The Little Match Girl Passion, the Pulitzer Prize, WNYC, good fortune - these things are all locked together in my mind. And on Sunday they will all be locked a little tighter. See you there?
For more information about the The Little Match Girl Passion and The Greene Space, and to buy tickets to the performance, please click here.