9 Musical Events Celebrating the National Park Centennial
Wednesday, August 24, 2016 - 03:59 PM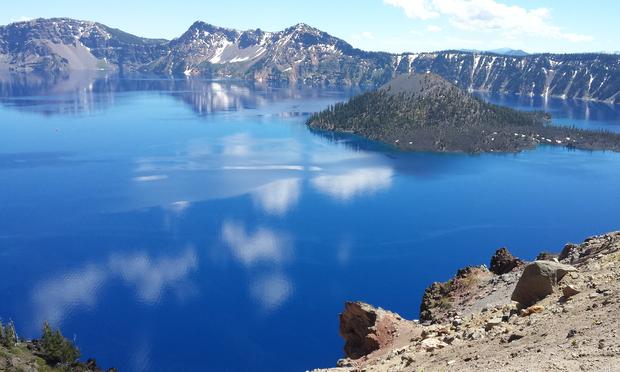 (sobolevnrm/Flickr)
On Aug. 25, 1916, Woodrow Wilson signed an act that created the National Park Service, and to celebrate its centennial, the NPS has had music on its mind. Partnering with the National Endowment for the Arts, it granted more than $1 million in commissions for new works and performances related to the parks across the country. Read on for highlights of these projects, ranging from multimedia Messiaen to Hopi music in the Grand Canyon.
Where: Crater Lake National Park (Oregon)
Who: Michael Gordon, Britt Orchestra
What: A site-specific work, Natural History, commissioned from Bang On A Can co-founder Gordon was performed at the park's Rim Village. We spoke to the composer about his inspiration for this piece, and you can listen to excerpts from this conversation as well as Natural History in the audio clip above.*
Fact: Over 2,000 feet deep and known for its heavenly blue waters, Crater Lake formed around 7,700 years ago when the magma chamber of a volcano collapsed. Native Klamath legend holds that a battle between the gods of the over- and underworlds was the cause.
Where: Cuyahoga Valley National Park (Ohio)
Who: John Luther Adams, Alarm Will Sound
What: A performance of Adams's 2014 work Ten Thousand Birds, comprising modules of birdsong, which Alarm Will Sound will arrange to reflect the morning-to-night appearance of native birds throughout the day.  
Fact: Located between the urban centers of Cleveland and Akron, Cuyahoga Valley National Park is one of the midwest's most unlikely oases. Attractions include rugged trails through secluded gorges, a scenic railroad and, in the summer, the Cleveland Orchestra.   
Where: Dinosaur National Monument (Utah)
Who: Utah Symphony and Opera
What: Free evening outdoor concerts at the park, led by music director Thierry Fischer, along with public programs and educational events.
Fact: A wall containing more than 1,500 dinosaur bones — Stegosaurus, Allosaurus and Diplodicus are among the species represented — is just one of the attractions at this real Jurassic park, located at the confluence of the Green and Yampa rivers on the Colorado-Utah border.
Where: Bryce Canyon National Park (Utah)
Who: Washington Performing Arts Society
What: Performances of Olivier Messiaen's 12-movement orchestral work Des canyons aux etoiles, featuring the United States Air Force Band, and paired with Deborah O'Grady's photographs of Bryce Canyon.
Fact: Commissioned by Alice Tully to compose a work celebrating the U.S. bicentennial, Messiaen found his inspiration at Bryce Canyon, which overwhelmed the composer with its beauty on a visit in 1972. Muscular brass chorales radiate like sunlit canyon walls in this stunning sonic embodiment of the American southwest. 
Where: Grand Canyon National Park (Arizona)
Who: Grand Canyon Music Festival
What: A new chamber work by Hopi composers Clark Tenakhongva and Trevor Reed, featuring two string quartets and based on traditional Hopi music.
Fact: The Grand Canyon is part of the traditional homeland of the Hopi people.Their village of Oraibi, which dates back to circa 1150 and is about 100 miles east of the national park, is widely considered the oldest continually inhabited settlement in the United States. 
Where: Shenandoah National Park (Virginia)
Who: Kid Pan Alley
What: A songwriting project for elementary school youth in which students from surrounding communities compose original songs inspired by the park.
Fact: The western border of this verdant Virginia park is the Shenandoah River, which in some accounts figures into the ubiquitous American folk song "Shenandoah." Versions differ, though; in some, Shenandoah isn't a river but a Native American chief whose daughter is wooed by a white fur trader traveling down the "wide Missouri."
Where: Glacier Bay National Park (Alaska)
Who: Artists and tribal elders within the Tlingit culture of Hoonah, Alaska
What: Singing Our Way Back to Homeland, a songwriting workshop in which students write new songs, adorn traditional skin drums and perform in consult with tribal elders from the Tlingit community.
Fact: Until around 300 years ago, the Tlingit people made their home in what is today known as Glacier Bay, located in the Alaskan panhandle west of Juno. But then came the titular glacier. Forced to abandon the land because of the ice mass, they nonetheless consider Glacier Bay their spiritual home. 
Where: Rocky Mountain National Park (Colorado)
Who: Boulder Philharmonic
What: A new orchestral work composed by Stephen Lias, accompanied by projected images showcasing Rocky Mountain National Park and performed in Boulder and at the Kennedy Center
Fact: Rocky Mountain National Park is split down the middle by the Continental Divide, which separates the watersheds that flow into the Atlantic Ocean from those that flow into the Pacific. You can hike much of it as part of the Continental Divide National Scenic Trail, a 3,100-mile trek located in between the more widely known Appalachian and Pacific Crest trails.
Where: Various parks across the country
Who: Robert Morris, Aaron Travers, Kevin Ernste, Tonia Ko, Adam Roberts, Daniel Pesca and others
What: Music in the American Wild, a project that will feature performances in several national parks of new music by 11 composers affiliated with the Eastman School of Music. Field recordings, an online travelogue and educational events will also be included.
Fact: A diverse group of talents for a diverse group of parks: The composers featured in the Music in the American Wild project range in age from 26 to 73 and specialize in styles spanning serialism to post-minimalism. 
* Audio recordings of Natural History from its premiere at Crater Lake National Park were provided by Tom Banse.
More in:
The WQXR e-newsletter. Show highlights, links to music news, on-demand concerts, events from The Greene Space and more.