On Wednesday, September 22, conductor Alan Gilbert opens his second season at the helm of the New York Philharmonic with the U.S. premiere of Wynton Marsalis's Swing Symphony (featuring the Jazz at Lincoln Center Orchestra). Strauss's Don Juan and Hindemith's Symphonic Metamorphoses on Themes by Carl Maria von Weber round out the program. WQXR will broadcast this performance live, starting at 7:30 p.m. on 105.9 FM and at WQXR.org. Terrance McKnight and Elliott Forrest co-host the gala concert.
About the Swing Symphony
Can an orchestra swing? That's one of the questions posed by Wynton Marsalis's Swing Symphony (Symphony No. 3). Spanning six movements, it is intended as an overview of the history of jazz. The piece was commissioned by the Berlin Philharmonic, the New York Philharmonic, the Los Angeles Philharmonic Association, and the Barbican Centre, London.
This isn't the first time that Marsalis has composed for classical forces. In 1995, he collaborated with The Chamber Music Society of Lincoln Center to compose the string quartet, At The Octoroon Balls. That was followed by the premiere of Blood on the Fields, his 1997 Pulitzer Prize-winning oratorio on slavery, and All Rise, an oratorio the New York Philharmonic premiered in 1999.
Terrance McKnight talks with Wynton Marsalis about the Swing Symphony:
And here, host Jeff Spurgeon talks with Wynton Marsalis and Alan Gilbert about the Evening's Program:
About Wynton Marsalis
Marsalis is a leading voice in American jazz, with an extensive discography and a string of awards. He was the first instrumentalist to win simultaneous Grammys in the jazz and classical categories. Joining Art Blakey's Jazz Messengers at 18, he went on to perform with all the major players of the Eighties, and toured with his band all over the world. Marsalis is the first jazz composer ever to earn a Pulitzer, a distinction that for five decades had been the exclusive domain of classical composers. In recent years, he's been a notable booster for his native New Orleans in the aftermath of Hurricane Katrina.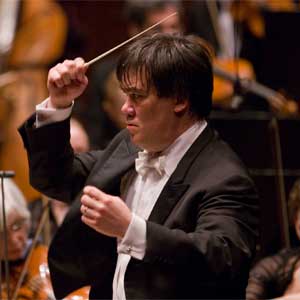 Program Details:
Alan Gilbert, conductor (pictured)
Wynton Marsalis, Music Director and Trumpet, Jazz at Lincoln Center Orchestra
R. Strauss - Don Juan
Marsalis - Swing Symphony (Symphony No. 3)
Hindemith - Symphonic Metamorphoses on Themes by Carl Maria von Weber