Get a free download of Philppe Quint playing Paganini's Caprice No. 24.*
The Italian virtuoso Nicolo Paganini was reportedly so talented on the fiddle that only some kind of diabolical pact could possibly explain it, hence the popular myth he had sold his soul to the devil. To this day, parts of Paganini's Caprices are considered virtually unplayable -- unless that is, you've been to the crossroads yourself.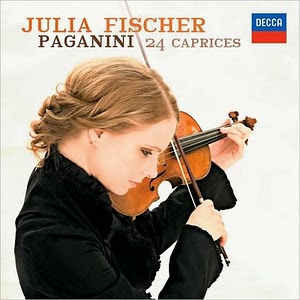 Two new recordings focus on Paganini's fiendishly difficult showpieces -- one by the young German violinist Julia Fischer, who plays all 24 consecutively, and the other featuring the Russian-born, New York-based Philippe Quint, who romps through Fritz Kreisler's arrangements for violin and piano. This week's Full Rotation presents both versions, side by side.
Julia Fischer, a serious 27-year-old who is better known for her recordings of Bach, Mozart and Beethoven, explains in the liner notes that she wishes to resurrect Paganini's often "misunderstood" Caprices. She studied them intensively for several months and occasionally took liberties with the score to make them come alive. For example, she records No. 6 with a mute, which adds a spooky quality, even though there's no evidence Paganini would have played it that way. Fischer applies other little tweaks here and there but manages to deliver the goods throughout, notably in the famous No. 24, which she plays with terrific speed and a strong left-hand pizzicato.
Philippe Quint's approach favors a bit more romantic expressivity as he glides through Kreisler's violin and piano arrangements. Included here are two-large scale sets of variations based on themes of Rossini operas, La campanella and several Caprices. There's more sonic variety in Kreisler arrangements but also a schmaltzier quality that might seem dated to some listeners. Still, the real point of comparison comes in No. 24. Quint's version has a certain period charm but also power: the control of the bow in staccato runs is breathtaking.
Paganini: 24 Caprices, Julia Fischer (violin)
Decca
Available at Arkivmusic.com
Paganini arr. Kreisler, Philippe Quint (violin), Dmitriy Cogan (piano)
Naxos
Available at Arkivmusic.com
*To download audio file, right-click on "download" (or option+click on Apple computers) and select "Save As…"