These shows originally aired the week of February 22, 2010. For the original show page, click here
Iannis Xenakis was a brilliant composer who has an almost cultish following. When I was in college, mentions of the word Xenakis were often accompanied by Ozzy Ozbourne-esque fists of rock and tongue-waggling. Why would a post-war, Greek-French composer, mathematician and architect be the source of such rabid devotion?
Xenakis is one of the most unique voices in concert music. While people often sweep his output under one heading or another, the techniques of his musical language are totally different from anyone else's. He was an architect -- as a young man, working under Le Courbusier -- and as such sketched out many of his works visually before delving into the no-nonsense world of notes. Also his notes! He was one of the first composers to assign every single member of the orchestra their own part, creating textures so complex they defy any auditory deciphering.
When I found out there was a major festival of Xenakis going on at The Drawing Center this season, I thought it'd be a perfect time to introduce one of new music's most-adored post-war composers. This week on Hope Springs Atonal (weekdays at 1), we'll be exploring Xenakis as both composer and major inspirational force.
Xenakis was fascinated by stochastic effects: sounds comprised of many little elements that combine to form an entirely unique soundscape; for example, although the sound of a rainstorm is made of each individual drop of rain hitting the ground, we are only aware of the total roar of precipitation. As a result, Xenakis truly pushed the boundaries of what is considered music, in really the polar opposite of the way John Cage pushed music; instead of finding music in happenstance and everyday life, Xenakis found music in form and order.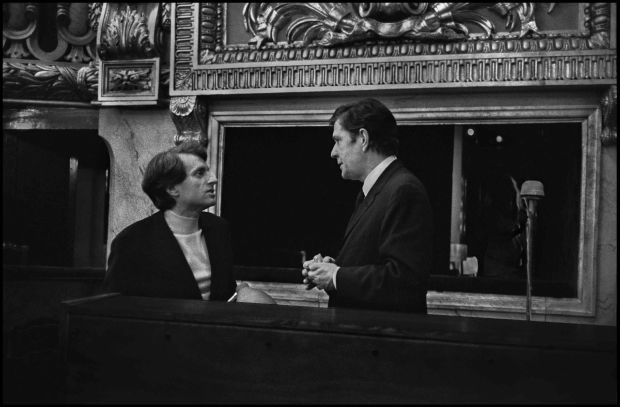 Iannis Xenakis and John Cage (Photo by James Klosty)
What are your thoughts on listening to his music -- do you find it poetic or cacophonous? Brutal or peaceful? Or are we lacking the terms to even talk about it?