NY Film Festival Returns to Lincoln Center
Just as it was calming down after Mercedes-Benz Fashion Week held its first season there, Lincoln Center is gearing up for another cultural extravaganza beginning this Friday: The 48th Annual New York Film Festival, presented by The Film Society of Lincoln Center. Nearly 50,000 cinephiles are expected to turn out for the 17-day event. The festival celebrates the best of American and international cinema from veteran filmmakers as well as new talent, and 28 feature films from 14 countries will have their New York City debut.
Activities begin Friday evening with the world premiere of "The Social Network"–the Facebook movie–from director David Fincher and screenwriter Aaron Sorkin. The film, according to Richard Peña, the society's selection committee chair and program director, "captures the spirit of its time." Other highlights from the festival include "The Tempest," Julie Taymor's Shakespeare adaptation that's promoted as the mid-festival centerpiece film, and Clint Eastwood's "Hereafter," the closing-night selection.
But to help sift through some two dozen other shows, we asked a few New York film critics to weigh in with their top picks. Andrew O'Hehir, a senior writer for Salon's Arts & Entertainment desk, has his sights on "Post Mortem."
"Young Chilean director Pablo Larraín's last film, 'Tony Manero,' painted a dark portrait of a disco dancer turned serial killer under the Pinochet dictatorship, and it's one of the craziest and most inspired movies I've ever seen," O'Hehir says. "This time Larraín goes further back into his nation's history, to a love affair during the short-lived regime of doomed socialist Salvador Allende." O'Hehir's other selections are "Black Venus," "Carlos," "Poetry," and "Inside Job."
Film editor Mark Asch, who previewed the New York Film Festival for The L Magazine, was most looking forward to "Carlos" a film by Olivier Assayas which Asch says is "an adroit immersion in the endlessly fascinating, relevant milieu of post-'60s leftist terror."
Asch reflects on the film after viewing it at a press screening: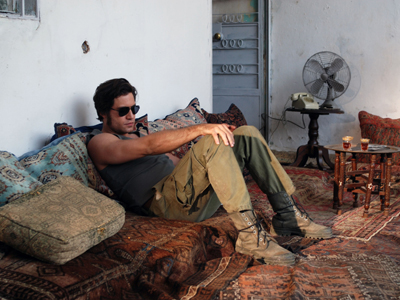 "For perhaps predictable reasons, this past decade has seen a significant number of films dealing with the logistics and morality of armed resistance, from 'Good Morning, Night' and 'Che' to 'V for Vendetta' and 'Avatar.' 'Carlos,' with its rather epic scope, promised to be something close to the definitive work on the subject—it's not, quite, but it is a deep, deft immersion in the recent history of the radical left, and the descent of revolutionary ideals into nihilistic terror."
Asch's other picks include "Poetry," "Meek's Cutoff," and "Uncle Boonmee Who Can Recall His Past Lives." He continues, "And, I guess, 'The Social Network,' which is the first time I'll be seeing a movie about someone in my grade."
In addition to the main-slate films, the festival program include discussions, screenings, and the annual HBO FILMS® Directors Dialogues, a series on conversations with directors Fincher, Taylor, and Apichatpong Weerasethakul, among others.
Act fast to secure seats: The Gala screenings–with the red carpet, the barricades, the flashbulbs–are already sold out for "The Social Network," "The Tempest," and "Hereafter." Sales are up ten per cent over last year, and ticket prices have remained the same, starting at $20 for main-slate screenings and starting from $12 or $20 for other screenings, events, and discussions.
The Film Society of Lincoln Center, founded in 1969 to celebrate and support cinema, also hosts New Directors/New Films, an annual festival produced jointly by the film society and the Museum of Modern Art, which focuses on emerging talent. The 2010 event this past spring opened with Richard Press's "Bill Cunningham in New York" and featured 38 works, including Xavier Dolan's "I Killed My Mother" ("J'ai Tué Ma Mère"), Yorgos Lanthimos's "Dogtooth," and James Rasin's "Beautiful Darling." And speaking of fashion shows shifting venues, the Elinor Bunin-Moore Film Center is expected to open in the first half of 2011 in the heart of Lincoln Center, offering an additional facility for next year's festivals. The project will feature two film theaters, an amphitheater for lectures, a space for art installations, offices, and a café.
The New York Film Festival runs from September 24 to October 10 at Lincoln Center's Alice Tully Hall and The Walter Reade Theater. For tickets and to view the entire schedule, click here.