First of all, I have to say that it was pure fun to be at such a glittery event. Thank you Terrance McKnight, for covering the last hour of my show! I got to the Met in time to admire some of the fancy attire (since Das Rheingold has no intermission, the only time to do that was before the opera). Most of the people who'd dressed to the nines looked gorgeous, but of course there were a few outfits that went straight into a mental episode of "What Not to Wear."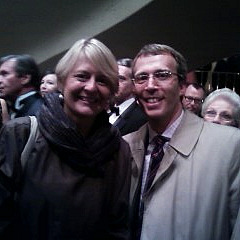 On the grand staircase, I was delighted to run into WQXR's always elegant Nimet Habachy, and I also got a picture of New York Public Radio C.E.O. Laura Walker and WQXR's Graham Parker (pictured, right). Best of all, I found Lina Schime – an elementary school teacher who moonlights as an usher at the Met. A few years back, I did a "Met Cameo" intermission feature about her for the Saturday afternoon radio broadcasts, and it was a kick finally to meet her.
Now for the opera. Yes, the set was astounding. Yes, the singing was glorious. But for me, the stars of the evening were James Levine and the Met Orchestra, who played like gods and goddesses. There was a huge ovation when James Levine entered the pit. Everyone was glad to see him – and hear him, and what he does with his band.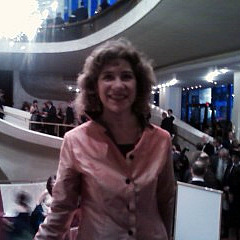 As massive (and occasionally creaky) as the set was, it seemed organic. The very first motion made by the enormous planks was the subtle waves of the Rhine River. Over the course of the evening, they went on to create (among other things) giant hands to hold the giants, and a staggering staircase for the journey to Nibelheim, as well as its cavernous interior.
And here's something you don't always find in an opera: the acting was gripping. Robert Lepage's gods were real people, with real emotions, and he got the excellent cast to convey that. All the singers were wonderful; the ones I remember most are Eric Owens as Alberich, Bryn Terfel as Wotan, Stephanie Blythe as Fricka, and Wendy Bryn Harmer as Freia (with a special nod to Gerhard Siegel's Mime, who made me laugh). 
Did I mention that the orchestra was terrific, and that it's great to have James Levine back in the pit? I can't wait for the next exciting installment of the Ring!
Did you attend opening night? Tell us what you thought of the production in the comments box below: