Gustavo Dudamel, the charismatic young Venezuelan conductor whose performances have whipped audiences into frenzies, opens his second season as music director of the Los Angeles Philharmonic this week.
On Friday, October 8 at 8:00 p.m. WQXR broadcasts that concert, which features the Peruvian tenor Juan Diego Flórez (pictured) in a festive program of bel canto arias and popular Latin American canciones by Rossini, Granda, Lara, Moncayo, Grever, Gutiérrez and Márquez. The concert, from Walt Disney Concert Hall, marks the start of a busy season for Dudamel, featuring 12 weeks of subscription concerts and the orchestra's first European tour since 2007.
Please share your thoughts on the performance in the comments box below.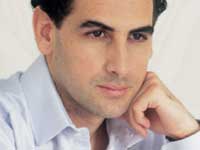 Celebración: Opening Night Concert and Gala

LOS ANGELES PHILHARMONIC
GUSTAVO DUDAMEL, conductor
JUAN DIEGO FLÓREZ, tenor
ROSSINI Overture to La gazza ladra
ROSSINI "Principe più non se" from La Cenerentola
ROSSINI Overture to Semiramide
ROSSINI "La speranza più soave" from Semiramide
ROSSINI Overture to William Tell
ROSSINI "Asile héréditaire" from William Tell
GRANDA (arr. Flórez) La flor de la canela
LARA (arr. Hayes) Granada
MONCAYO Huapango
GREVER (arr. Guinovart) Júrame
GUTIÉRREZ (arr. Osuna) Alma llanera
MÁRQUEZ Danzón No. 2