"New music" isn't a description reserved solely for pieces that have just been written. It also applies to music that jostles the lingua franca, snaps the course of musical history out of a particular rut, or simply slips through the cracks and patiently awaits a revival. The music of English composer-pianist York Bowen has been waiting for almost half a century.
Bowen was born in 1884, a decade after Sergei Rachmaninoff and Maurice Ravel. His rich, unique Romantic language was soon eclipsed by the avant-garde advances of his contemporaries, among them Igor Stravinsky, Alban Berg and Edgard Varèse.

Q2 shines a spotlight on composers who warrant reevaluation. With the pianist Stephen Hough presiding over the York Bowen Society and some new CDs on the market, now might be the right time to reexamine Bowen's music.

We'll be introducing some of Bowen's Piano Sonatas and Piano Concertos into the Q2 stream. Tune in or check out the above-excerpted opening of his Short Sonata in C-sharp Minor, Op. 35/1, from a recent recording by the pianist Danny Driver and share your reactions.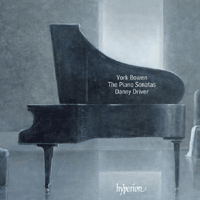 What do you think of Mr. Bowen's music? Does it deserve a second look? Are we in need these days of more music characterized by simplicity, charm, and elegance? And are there other composers whose works should be revived? Let Q2 know!