Gov't. Cuts Led to Job Losses in September
The U.S. economy continues to lose jobs as the government reports Friday morning that 95,000 positions were cut from the nation's payrolls.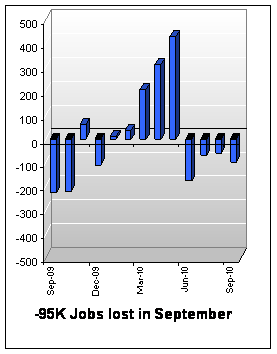 "The private sector continues to add jobs," said Joel Naroff, president of Naroff Economic Advisors, "but the pace is quite sluggish and not enough to change the unhappy mood of consumers."
In addition, the number of jobs lost in August and July was also revised downwards with more jobs lost than first expected.  And a preliminary revision to the unemployment data indicates that 366,000 more jobs were lost this last year than previously estimated.
"This is no surprise to those still looking for a job almost two years after job losses soared during the height of the financial crisis," wrote Diane Swonk, chief economist with Mesirow Financial.  She added that today's report "will fuel the debate over the role that fiscal stimulus played in preserving jobs in 2009."
Today's report also reaffirms that the nation's economic recovery has stalled.  Despite the disappointing report, the stock market opened up this morning. Traders and investors expect that the report could give further support for the Federal Reserve to stimulate the economy with benefits to businesses.
With 14.8 million Americans out of work, the nation's unemployment rate remained unchanged at 9.6 percent.  A broader measure of unemployment that includes people working part-time who want full time work jumped to 17.1 percent.
With unemployment stuck in mid-nine percent range since January, Americans are frustrated.
The labor market remains far too weak to raise confidence among consumers, lift spending and in turn spur businesses to step up hiring," said Sophia Koropeckyj, managing director at Moody's Analytics.  
According to the latest ABC News/Washington Post poll, seven out of ten polled are dissatisfied with the federal government.
That in turn has fueled a growing anti-incumbency mood among voters that could lead to Republicans taking control of the House of Representatives and possibly the Senate too.
And options for the administration to encourage businesses to hire are limited as Congress is in recess until after the election.
Speaking at a masonry manufacturer in Bladensburg, Maryland, President Obama highlighted the private sector jobs.
"We've now seen nine straight months of private sector job growth.  In all more than 850,000 private sector jobs gained this year."
While economists had predicted government employment to fall as a result of continued cuts of temporary 2010 Census workers, the number was greater than expected due to sever cuts in state and local government jobs. 
"The real eye opener was the large loss of jobs at the local level," said Naroff.  "The massive state budget problems have been pushed down to the local levels and they have no place to go but to reduce workforces."
John Silvia, chief economist at Wells Fargo, said these losses were "very big cuts."
As for private sector employment, the health care sector continued to hire new employees, adding 24,000 in September.  Professional and business services added 28,000, largely temporary workers. The leisure and hospitality industry added 34,000 positions.
Finding a job in the construction industry became even harder in September as 21,000 jobs were cut.
For those with jobs, the average work week remained unchanged and average hourly earnings only increased by 1 cent.  Economists had hoped to see these measures increase, a sign that employers needed their staff to work more and were holding off on hiring new employees. That does not appear to be the case.
Today's report is also the last jobs report before the Federal Reserve's next meeting.  Today's lackluster results could add to the growing support for the Fed to restart a program of stimulate the economy that it first began during the worst of the recession. A decision could come as early as a day after the mid-term election on November 3.
The next jobs report is scheduled to be released on November 5.