Top Five Classical Music iPhone Apps
Applications for the iPhone and iPod touch are multiplying at a dizzying rate, with over 100,000 now offered. While the most popular apps are games or gimmicky utilities like "Alarm Clock Pro," there is also a small--but growing--slate of entries for the classical music fan. Some are practical and others pure fun. Here are five standouts.
1. Bravo Gustavo
The Los Angeles Philharmonic recently launched a free iPhone application (pictured) that coincides with the arrival of its new rising-star conductor, Gustavo Dudamel. The "Guitar Hero"-inspired conducting game lets you feel what it's like to stand at the podium and lead an orchestra. Given two selections from Berlioz's Symphonie Fantastique, you supply the tempo. Either try to find the correct rhythm, or, if you're feeling crazy, force the orchestra to play double-time. More details.
2. Oxford Dictionary of Music
Oxford University Press has teamed up with the software maker WhiteParkBay.com to create versions of some of their most popular dictionaries for the iPod Touch and iPhone. The easy-to-use music dictionary has entries covering musical instruments, composers, librettists, performers, orchestras, musical terms (from allegro to zingaro), and musical works from Aida to Zauberflote. More details.
3. Composer of the Day
This simple app offers concise, one-sentence biographies of classical composers, one per day, on each composer's birthday. Don't expect any bells and whistles here but you will get some easy cocktail party conversation fodder. Best of all, it's free. The app was created by students and faculty at Wittenberg University in Ohio.
4. RCO Live (Concertgebouw Orchestra of Amsterdam)
Access more than 70 hours of streaming live performances by the Royal Concertgebouw Orchestra of Amsterdam, one of the world's great orchestras, using this free app. The makers promise that new recordings will be added on a regular basis, plus concert schedules and background on the orchestra. It is part of the orchestra's in-house record label.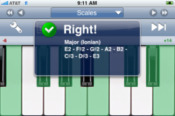 5. Karajan: Music and Ear Trainer
There are dozens of music education and training apps of wildly varying quality. Named after the legendary maestro Herbert von Karajan, this is one of the more popular such tools. It includes lessons for learning how to recognize intervals, chords, scales, pitch and tempo. Music theory students and amateurs will find something useful here. The basic version is $14.99 but there's now scaled-down, free app called Karajan Beginner. More details.
Got a favorite musical app? Tell us about it below!