Adams to Zappa with Richard Einhorn
This episode originally aired April 17, 2013
Wednesday, October 16, 2013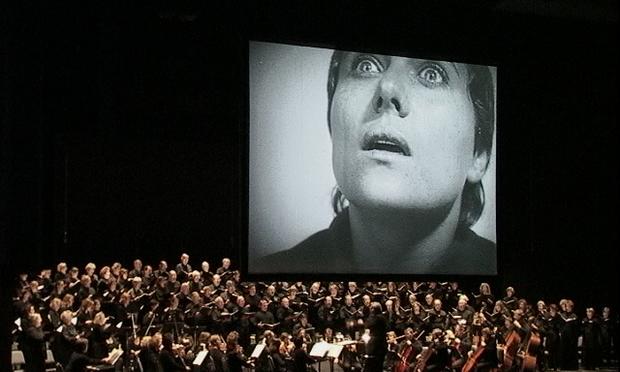 (Courtesy of the composer)
Composer Richard Einhorn has written extensively for both the concert hall and for film. Alongside critically acclaimed works like The Origin, an opera about the life of Charles Darwin, and Voices of Light: The Passion of Joan of Arc, an opera for silent film that continues to be performed around the world, his credits include extensive film scoring for Emmy and Academy Award winning films.
Richard Einhorn writes the following about his Mixtape:
Living Music. Living Composers.

More
I love all this music, but, of course, if I did this mix tape on a different day, it would contain thoroughly different selections. I wanted to start with something by the one and only Frank Zappa, without whom... And from there, I tried to find juxtapositions and connections—from Bartok to Bowery Bum to Nancarrow—that surprised me and kept me interested in the flow. 
Music is never written in a vacuum and many of these composers and performers are people I have had a very happy and longtime personal connection to. I went to high school with John Luther Adams, for example, and my composition teacher, Jack Beeson, was a student of Bartok's. Anonymous 4, Kitka, Ethel and Catalyst have all performed my work beautifully more times than I can remember and I was astounded by Ilhan Mimaroglu's amazing electronic music when I was a teenager (he also kindly encouraged me in my own adolescent efforts).
I first met Laurie Spiegel - one of the genuine rock stars of new music - when we both participated in a BAM performance of Cage's HPSCHD many years ago I'm still starstruck. I've also included some unusual film music by the vastly under-recognized Thomas Newman and my dear friend Jeff Rona.
It was a blast to listen to all this music again, to conjure up all the good times the music is associated with, from hearing David Borden's Mother Mallard in a much-too-hot Soho loft in 1975 to first encountering Jessie Montgomery's striking string quartet, with the Grand Canyon last year as a spectacular and fitting backdrop. My only regret is that I could not include more music by the wonderful musicians I know! 
Now, how on earth am I going to get all those CDs back in their proper places…
Playlist
Frank Zappa - Piano Introduction to Little House I Used To Live In (Ian Underwood, piano)
John Luther Adams - Drums of Winter from Earth and the Great Weather (John Luther Adams and musicians)
Meredith Monk - Ester's Song (Meredith Monk, voice and Casio)
Bela Bartok - String Quartet No. 4 - IV. Allegretto Pizzicato (Juilliard String Quartet)
Ilhan Mimaroglu - Bowery Burn (Rubber bands processed at the Columbia-Princeton Electronic Music Center)
Laurie Spiegel - Drums (1975) from Obsolete Systems
Thomas Newman - Funeral Shark from The Player (Thomas Newman, synthesizer)
Conlon Nancarrow - Study #12 for Player Piano (Ensemble Modern; Ingo Metzmacher, conductor)
Hildegard von Bingen - O Rubor Sanguinis from 11,000 Virgins (Anonymous 4)
Arvo Part - Spiegel Im Spiegel (Vladimir Sivakov, violin; Sergei Bezrodny, piano)
Jeff Rona - The Early Dawn 
Mary Jane Leach - Night Blossoms (Kiitos, voices)
Jessie Montgomery - Strum (excerpt) (Catalyst Quartet)
Bulgarian Traditional (arr. Shira Cion & Janet Kutulas - I Mori Makja Jano/Lepa Jano (Kitka)
Phil Kline - Tarantella from The Blue Room & Other Stories (Ethel)
David Borden - C-A-G-E Part II (excerpt) (Mother Mallard's Portable Masterpiece Co.)
The WQXR e-newsletter. Show highlights, links to music news, on-demand concerts, events from The Greene Space and more.