Art Exhibit Makes Use of Donated Instruments
Wednesday, December 14, 2016 - 11:05 AM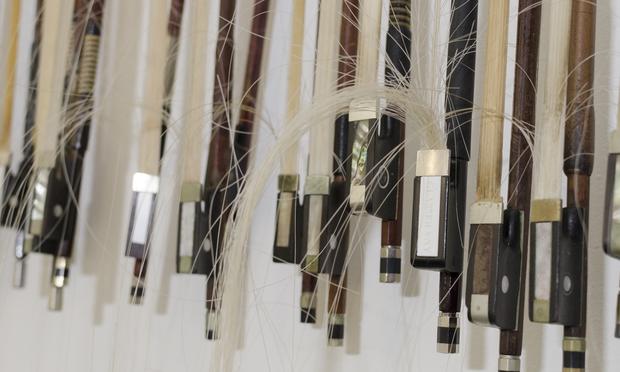 (Celia Calvo/MFTA)
Beginning Thursday, Dec. 15, Materials for the Arts will present Found and Funky, an exhibition featuring works by artist Michael Kelly Williams and curated by Omar Olivera. The mixed-media solo show breathes new artistic life into found objects from the MFTA warehouse, repurposing them into their own standalone works of art. In what turned out to be a beautiful connection with the area's musical community, some of those found objects include donations from WQXR's instrument drives.
Over the course of two drives, WQXR received about 5,500 instruments to be donated to schools all across the five boroughs, from Great Kills to Greenpoint, as well as Newark, N.J. Before they could be bestowed upon the students, the instruments had to be refurbished and outfitted with new cases and maintenance equipment. However, between 15 and 20% of those donations were deemed unplayable. But those remainder instruments were still to fulfill their own unique artistic destiny, and they were sent to the Materials for the Arts. Now, they serve as the basis for thoughtful social and artistic commentary.
The title of the exhibition reflects the nature of the artworks on display. The "found" refers to the status of the objects, which were pulled from the MFTA warehouse. "Funky" is a jazz term, used to celebrate art understood to have reached its highest form. In no uncertain terms, Williams is celebrating the peak artistry of items no longer considered wanted or beautiful.
The artist, a Detroit native who is currently a MFTA resident, says this project is a nod to the found folk art traditions of his hometown. "There is a strong folk art tradition in my hometown of Detroit," explains Williams. "I am reaching for a unique vision in my work yet one that is linked in tradition." One of those traditions is musical in nature, with several of the pieces nodding towards the artistry of notable jazz musicians such as John Coltrane and Thelonious Monk. In keeping with the musical tones, drummer Pheeroan akLaff will be performing at the show's opening on Thursday.
Williams has a notable background in printmaking — studying at the University of Michigan and Robert Blackburn's Printmaking Workshop in New York City — and earned his MFA in sculpture from Brooklyn College. New York, Washington, D.C., Detroit, and Philadelphia are all home to his art.
If you're in the area and ready to check out some found art, you can see Williams's work on display from Thursday through April 8, 2017, at the MFTA Gallery in Long Island City. If you can't make it out to admire the instrumental aesthetics, you can enjoy this performance from the Summer Arts Institute, featuring students using the donated instruments.
More in:
James Bennett II is a staff writer for WQXR.
The WQXR e-newsletter. Show highlights, links to music news, on-demand concerts, events from The Greene Space and more.