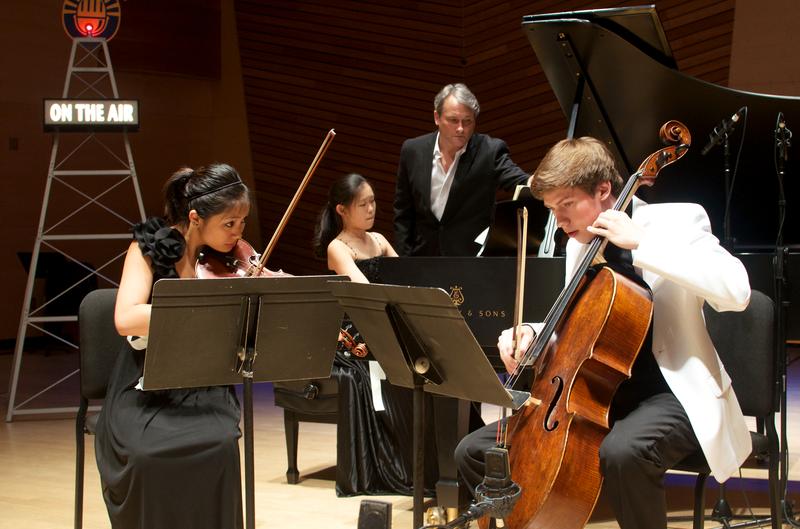 This week, From the Top comes to you from Harris Concert Hall at the Aspen Music Festival and School. We hear performances from an outstanding array of young musicians who studied here over the summer. Among them, a 16-year-old pianist performing from Préludes, Book II by Claude Debussy; a 14-year-old cellist performing the music of Edouard Lalol; and a 16-year-old violinist performing Tchaikovsky's playful Waltz-Scherzo.
Programs details:
The Alumni Piano Trio (violinist Haruno Sato, 18, from Cleveland, Ohio; pianist Adria Ye, 15, from New York City; and cellist Austin Huntington, 19, from South Bend, Ind.) performs IV. Finale: Allegro assai appassionato from the Piano Trio No.1 in D minor, Op.49, by Felix Mendelssohn.
French horn player Brian Mangrum, 18, from Montreal, Canada, performs Villanelle for Horn and Piano by Paul Dukas.
Cellist and Jack Kent Cooke Young Artist Sterling Elliott, 14, from Newport News, Va., performs III. Introduction: Andante – Allegro Vivace from the Cello Concerto in D minor by Édouard Lalo.
Pianist Jiacheng Xiong, 15, from Fujian, China, performs "Les fées sont d'exquises danseuses" and "Général Lavine – eccentric" from Préludes, Book II by Claude Debussy.
Violinist Angela Wee, 16, from Woodbury, N.Y., performs the Waltz-Scherzo, Op.34 by Peter Ilyich Tchaikovsky.
Pianist Colton Peltier, 19, from Hastings, Minn., performs Transcendental Etude No.5 in B-flat major, "Feux Follets" by Franz Liszt.