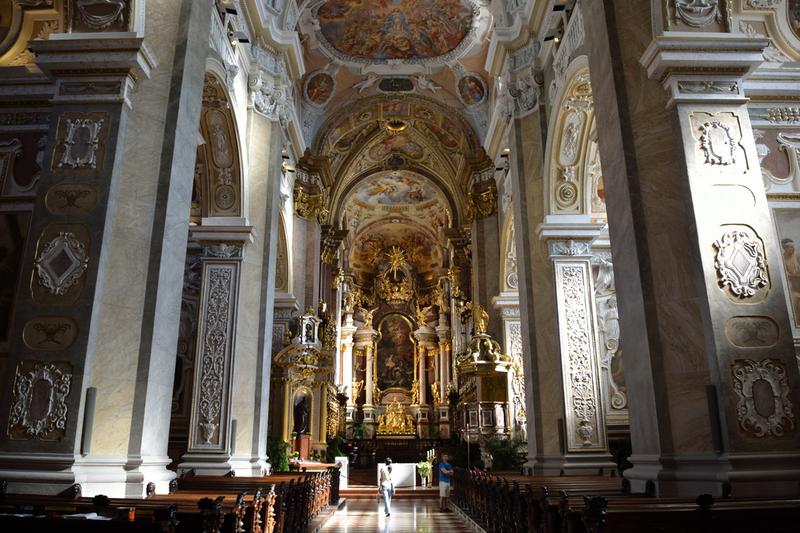 This week's program highlights some musical memories featuring artists and instruments enjoyed during the 2009 Pipedreams Tour.
Program details:
JOHANN JACOB FROBERGER: Toccata in G. JOHANN KASPAR KERLL: Magnificat Quarti Toni, from Modulatio Organica, alternatim –Jeremy Joseph (1642 Freundt/Klosterneuburg Abbey, Austria) NCA 60207.
HANS NEUSIDLER: Judentantz. PAUL HOFHAIMER: Carmen. HENRICUS BEGINKER: Dies est laetitiae –Marcus Hufnagl (1640 Anonymous/St. Michael in der Wachau, Austria) EWSM 2000.
GIROLAMO FRESCOBALDI: Aria detto Balletto –Emanuel Schmelzer-Ziringer (2004 Vonbank/Pfarrekirche, Michelhausen, Austria) Extraplatte 634.
GEORG MUFFAT: Toccata Septima –Wolfgang Kogert (1714 Sieber/Michaelerkirche, Vienna, Austria) NCA 60206.
ANTON HEILLER: Tanz-Toccata –Ronald Peter (1986 Hradetzky/Stadtpfarrkirche, Krems, Austria) Kirchen Tonart Krems 2004.
JOSEF RHEINBERGER: Vision, Opus 156, number 5 –Ronald Peter (1875 Capek/Piaristenkirche, Krems, Austria) Kirchen Tonart Krems 2004.
PETER PLANYAVSKY: 3 Chorale-Improvisations: All Menschen müssen sterben; Mitten wir im Leben sind/Flutes; Mit Fried und Freud –Peter Planyavsky (2001 Kögler/Stadtpfarrkirche - St. Michael, Haag, Austria) Organ Promotion 7007.