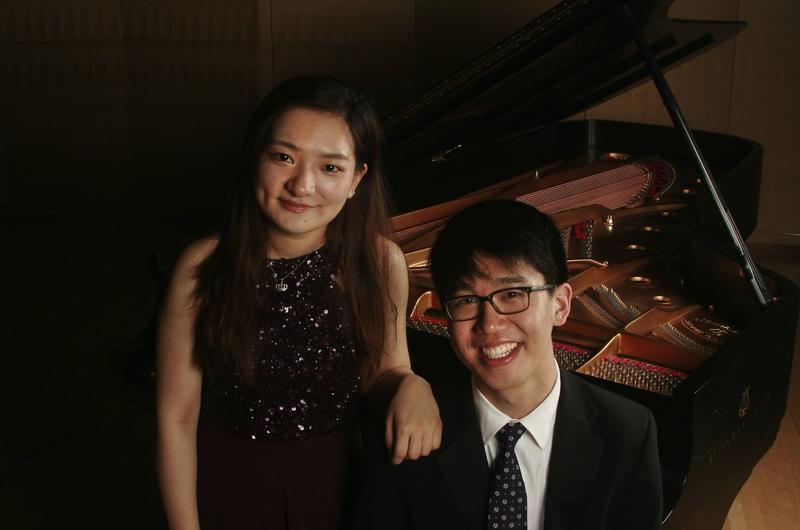 The Young Artists Showcase this week introduces a pair of 20-year-old pianists as the new winners of Juilliard's Gina Bachauer competition: Yun Wei of Hunan, China, and Alan Woo of Arlington, Va. For more than 30 years, each new season of the Young Artists Showcase has opened with a concert broadcast of the new winners of this competition, held every year in the Juilliard School's Paul Hall.
The Bachauer competition awards young artists free tuition scholarships to Juilliard. Former Bachauer winners include Showcase alums such as Michael Brown, Sean Chen, Ran Dank, Fei-Fei Dong, Naomi Kudo, Andrew Tyson and Orion Weiss.
Wei won the 2012 Kosciuszko Chopin Competition and is a fourth-year student at Juilliard studying with Robert McDonald. Praised for his "assurance and vitality" (New York Times) in his 2010 appearance with the Juilliard Orchestra, Woo is also a fourth-year pianist studying with McDonald.
For the winners' concert, Wei performed Shostakovich and Szymanowski, and then her co-winner Woo played Chopin and Prokofiev. As an encore, the pair became a duo in Anton Arensky's Waltz in C Major for two pianos.
The McGraw-Hill Robert Sherman Award for Music Education and Community Outreach will also be announced during this week's broadcast. Trade Winds bassoonist Midori Samson will be awarded a $10,000 grant to support his ongoing projects in music education and community outreach.
Program Details:
Shostakovich: Six Preludes, Op. 34
Karol Szymanowski: Variations in B-flat Minor, Op. 3
— Yun Wei, piano.

Chopin: Introduction and Rondo in E-flat Major, Op. 16
Prokofiev: Sonata No. 6 in A Major, Op. 87, Movement IV
— Alan Woo, piano.
Anton Arensky: Waltz in C Major for two pianos from Op. 15
— Yun Wei and Alan Woo, piano.