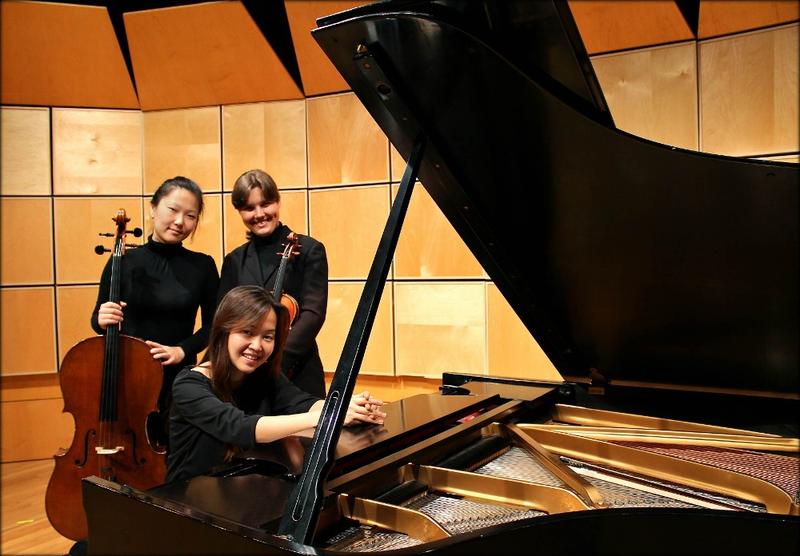 Boca Raton, Fla., is home to the Tashkent Piano Trio and Lynn Piano Quintet, two chamber groups from Lynn University's new tuition-free conservatory.
The Tashkent Piano Trio starts off this week's program with a haunting Fantasy by the Soviet Bukharian composer Suleiman Yudakov, who also wrote the national anthem of Tajikistan. This live performance was recorded at the season opening concert of New York's Lyric Chamber Music Society series in 2013. We also hear three movements of the Shostakovich Trio in E minor, from their performance at the same concert, which was the Tashkent's New York debut. The Tashkent Piano Trio formed earlier that same year at Lynn University's new conservatory in Boca Raton.
The five students that came together to perform Erno Dohnanyi's Piano Quintet No. 2 in E-flat minor were so proud of winning Lynn University's chamber music competition that they took the school's name. The Lynn Piano Quintet make their own New York debut in a concert presented by the Lyric Chamber Music Society on May 5 at the Kosciuszko Foundation.

Program playlist:
Suleiman Yudakov: Fantasy for violin, cello and piano
Shostakovich: Second, third and fourth movements from Piano Trio in E minor
— Tashkent Piano Trio.
Erno Dohnanyi: Piano Quintet No. 2 in E-flat minor
— Lynn Piano Quintet.