The Beautiful Singing of 'I Puritani' is your Met Radio Broadcast
Saturday, February 18, 2017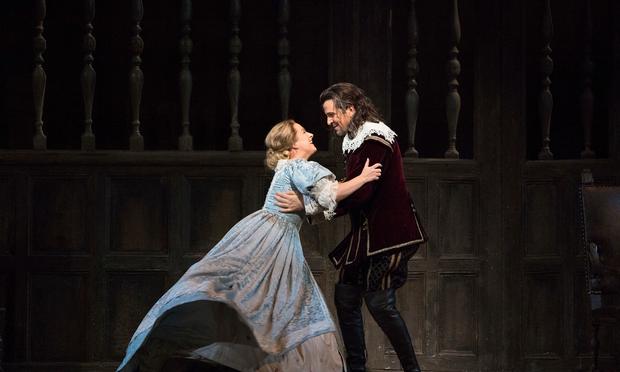 (Marty Sohl/Metropolitan Opera)
Since its 1835 premiere, I Puritani has been a smashing success. Audiences loved it from the jump, and it earned Bellini the Legion of Honor from Queen Maria Amalia of Naples and Sicily. Now you can experience the beautiful joy with the Metropolitan Opera Radio Broadcast, this Saturday at 1 pm.
Some critics have found the plot of Bellini's tale of passion and fidelity during the English Civil War to be a bit convoluted and melodramatic. In fact, in this week's episode of He Sang, She Sang, Metropolitan Opera director Sarah Meyers calls the story "the bane of my existence." But, it works, thanks to the beautiful singing throughout — literally. I Puritani is a hallmark example of the bel canto (Italian for "beautiful singing") style of opera. These operas utilize a ceaseless array of demanding vocal techniques and ornamentation to turn the voice into a gilt instrument of its own. 
The fact that Bellini can make musical gold out of the ill-conceived plot is a testament to his masterful skill as a composer. The singing is so gorgeous that one could hear it performed in concert and be filled with the same wondrous feeling. There aren't many individual solos either, which allows the listener to instead focus on the smart interaction betwen the talented voices.
Vincenzo Bellini died at the young age of 33, nine months after the premiere of I Puritani. But the people recognized his crowning achievement at such, and so his death came at the height of his popularity, and he remained a source of inspiration for future composers. Chopin loved his music, and requested to hear a Bellini aria on his deathbed; Wagner also was a fan.
To learn more about the opera, and to hear an exclusive interview with bass-baritone Luca Pisaroni (Giorgio), be sure to check out this week's episode of the He Sang, She Sang podcast.
Cast
Conductor: Maurizio Benini
Elvira: Diana Damrau
Arturo: Javier Camarena
Riccardo: Alexey Markov
Giorgio: Luca Pisaroni
The WQXR e-newsletter. Show highlights, links to music news, on-demand concerts, events from The Greene Space and more.