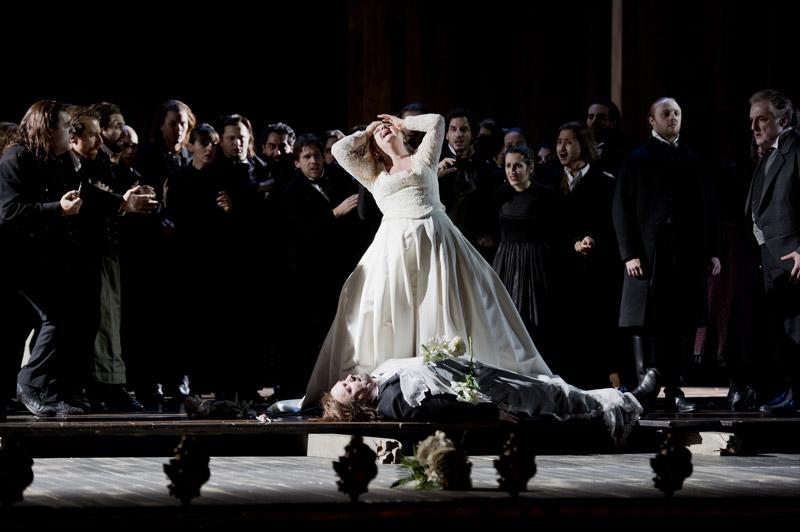 Bellini has a well-deserved reputation as a master of bel canto opera. Yet, his fascinating drama La Straniera (The Stranger), set in medieval Brittany, is in a different vein. Its highly expressive music explores Romantic territory then considered so radical and hard to pin down that one critic couldn't decide whether it was "sung declamation ... or declamatory song."
The story, though, is so jam packed with convenient but preposterous plot twists that it seems impossible to take seriously. There are dead men coming back to life. There's a mysterious, unrecognizable character who is actually a world-famous celebrity. There's even a pair of potential lovers, from very different backgrounds, who turn out to be brother and sister without even realizing it. The story may be hard to take seriously, but the music it inspired is adifferent story altogether — and it makes for some of the most dramatic moments in all of Bellini's operas.
On World of Opera, host Lisa Simeone presents La Straniera from the Theater an der Wien in Vienna. Soprano Marlis Petersen sings the challenging title role, in a production led by conductor Paolo Arrivabeni.
Cast:
Alaide (The Stranger): Marlis Petersen (soprano)
Arturo: Norman Reinhardt (tenor)
Valdeburgo: Franco Vassalo (baritone)
Isoletta: Theresa Krollthaler (mezzo-soprao)
Osburgo: Vladimir Dmitruk (tenor)
Montolino: Martin Snell (bass)
The Prior: Stefan Cerny (bass)
Vienna Radio Symphony Orchestra
Arnold Schoenberg Chorus
Paolo Arrivabeni, conductor