Berlin Wall Anniversary: Beethoven's Ninth Symphony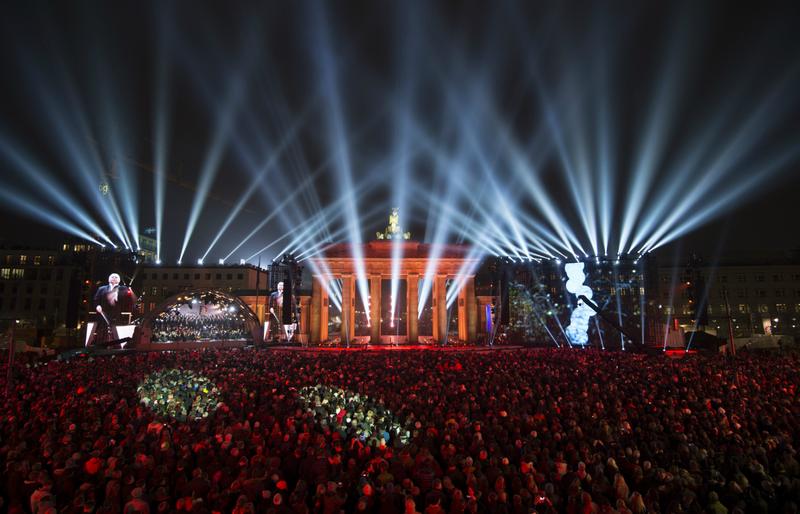 How does the Berlin Philharmonic mark the 25th anniversary of the fall of the Berlin Wall? Tune in to this week's episode to hear the orchestra's commemorative concert recorded in Berlin on Nov. 9, in which Simon Rattle conducted Beethoven's Ninth Symphony and Szymanowski's Stabat mater.
As it happens, this was just first in a series of concerts that coincide with the anniversary. The next day, the orchestra members boarded giant buses for a four-city "Fall of the Wall" Tour. First stop: Halle's modern Händel Hall, named for favorite son George Friedrich (the composer, of course). Next stop: the Warsaw Philharmonic, modeled on the original building from the early 20th century. Next: the Béla Bartók National Concert Hall at the Palace of the Arts. And finally, on November 15 in Prague, the Philharmonic performed in glorious Smetana Hall.
Every concert opened with a work by a national composer, and climaxed with Beethoven's Ninth Symphony and the Ode to Joy, sung by a local chorus. The Berlin Philharmonic travel blog has some beautiful pictures. In addition, some long-time orchestra members shared their memories in a story with subtitles in the Digital Concert Hall.
Program Details:
Karol Szymanowski: Stabat mater
With Sally Matthews, Bernarda Fink, Hanno Müller-Brachmann, Rundfunkchor Berlin, Christian Elsner
Ludwig van Beethoven: Symphony No. 9 in D minor (1:15:10)
With Christian Elsner Tenor, Sally Matthews Soprano, Bernarda Fink Contralto, Hanno Müller-Brachmann Baritone, Rundfunkchor Berlin, Simon Halsey Chorus Master
Watch video archives of these broadcasts with a 48-hour free pass to the Digital Concert Hall using the promo code WQXR.
The Berlin Philharmonic's recordings are available at Arkivmusic.com and on iTunes.