New York Now
On Demand Video: Q2 Music's Best of 2014 in New Music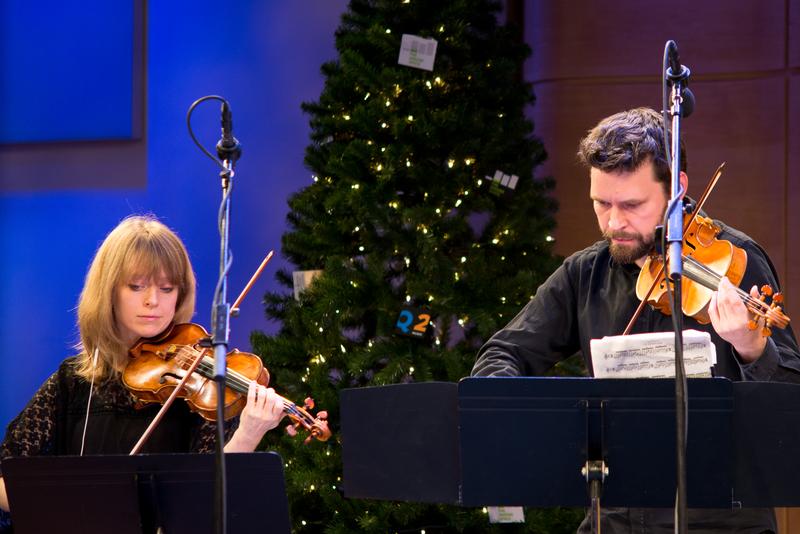 Tuesday, Dec. 2 at 7 pm, Q2 Music presented a star-studded celebration of some of the year's most riveting, charismatic and gorgeous new-music recordings, hosted by Meet the Composer's Nadia Sirota. 
The evening spotlights an ECM New Series recording by Tre Voci – the chamber ensemble featuring Grammy Award-winning violist Kim Kashkashian alongside flutist Marina Piccinini and harpist Sivan Magen – performing Tōru Takemitsu's And then I knew ´twas Wind, a work inspired by the music of Debussy and a line from the poetry of Emily Dickinson.
Soprano Mellissa Hughes performs excerpts from Jacob Cooper's Silver Threads (Nonesuch)– an evocative six-song cycle for soprano and electronics, based in large part on a haiku by Japanese poet Matsuo Bashō. Pieces include Antique Windfall with text by Zach Savich and Unspun with text by is by Dora Malech
Violinists Cornelius Dufallo and Amy Kauffman are joined by stop-motion animations of New York-based artist Josh Dorman in three movements from composer Anna Clyne's nostalgic, Baroque improvisation-inspired The Violin (VIA Records).
Performers along with composers Jacob Cooper and Anna Clyne will join Sirota on-stage for mid-concert interviews.
Watch the entire show:
Highlights include: