Black Classical: Singers and Instrumentalists
Monday, February 13, 2017 - 12:00 AM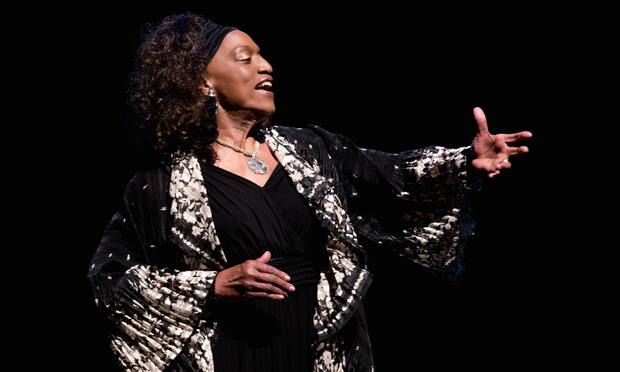 (Getty Images/Noam Galai)
Every weekday during Black History Month, you can tune in at 1 pm and 7 pm to hear the work of a number of notable black musical figures. Here, we take a look at singers and instrumentalists who have helped shaped the history of classical music and the future of performance.
Update: The list below incorrectly specifies that the music of American baritone Robert McFerrin will be featured on February 22. While he does occupy an important place in operatic history, we will instead be featuring the music of his son, Bobby McFerrin (airs Feb. 22). Bobby, who has feet in both the jazz and classical worlds, is also a gifted conductor who has led several prominent orchestras at home and abroad: the Cleveland Orchestra, the New York Philharmonic, the Chicago Symphony Orchestra, the Cleveland Orchestra and the Vienna Philharmonic. For several years in the 1990s, he served as the Creative Chair of the Saint Paul Chamber Orchestra. Sometimes, McFerrin not only conducts, but will contribute his own voice to the ensemble's sound — like adding another instrument to the mix. Listen below as he adds a vocal line to the third movement of Vivaldi's Concerto for Two Cellos in G minor. Click here to read about more conductors in this series.
Martina Arroyo (aired Feb. 2)
"Opera icon" was not the career that Martina Arroyo initially imagined. Although she understood her musical talent, her original gameplan was to become a school teacher. Lucky for us, her teachers encouraged to pursue a musical life. In 1958 she won the Metropolitan Opera's Auditions of the Air contest, and got the chance to perform at the Met as the off-stage Celestial Voice in Verdi's Don Carlo. Because of the limiting opportunities in America, Arroyo began to build her career in Europe. But she returned home to New York after the Met to sing the title character in Aida. In 1968, she sang Elsa in Wagner's Lohengrin, the first black woman in the world to do so.  
Wynton Marsalis (aired Feb. 3)
He's one of the most recognizable names in jazz, but trumpeter Wynton Marsalis has had a notable classical career as well. In fact, he's the only person to win Grammy Awards in both jazz and classical categories — his two classical wins came with performances alongside the National Philharmonic Orchestra and the English Chamber Orchestra.
Paul Robeson (aired Feb. 7)
The solemn bass of Paul Robeson occupies a revered place in the pantheon of great American voices. In addition to his athletic, stage and film careers, Robeson was known for the work songs and spirituals that formed a key part of his repertoire. As he grew older, he became increasingly politically active. A fierce opponent of US imperialism, racially motivated lynchings and fascism, Robeson propelled himself headfirst into the civil rights movement. His activities were seen as subversive by many, and he found himself blacklisted during the height of McCarthyism.
Leontyne Price (aired Feb. 10)
Price, who celebrates her 90th birthday on Friday, has been in turn celebrated by the musical community for over half a century. After a string of well-received European performances in the 50's, she was offered a contract with the Met Opera. In 1961, she debuted there as  Leonora in Verdi's Il Trovatore. The audience was stunned, and rewarded her with an ovation that lasted over 35 minutes. She also maintained a notable concert and recital career, in addition to her work for the stage.
Stewart Goodyear (airs Feb. 14)
After completing his education at the Toronto Royal Conservatory of Music, Goodyear went on to become one of his generation's most popular pianists. He's appeared with numerous ensembles in the United States, including the New York Philharmonic, the Cleveland Orchestra, and the Baltimore Symphony. He's also appeared with the Montreal Symphony Orchestra and the Toronto Symphony in his native Canada, and crossed the Atlantic to perform with Royal Liverpool Philharmonic and the Frankfurt Radio Symphony.
Jessye Norman (airs Feb. 15)
One of the most recognizable dramatic sopranos in recent operatic history, Jessye Norman has also enjoyed a distinguished career as a concert recitalist. After earning a graduate degree from University of Michigan School of Music, Theatre & Dance, and the following year she made her critically acclaimed debut as Elisabeth in Wagner's Tannhauser for the Deutsche Oper Berlin. She has also sung at state functions that include the U.S. Presidential Inauguration, and is a recipient of the National Medal of the Arts.
Anthony McGill (airs Feb. 17)
The principal clarinetist of the New York Philharmonic and the Met Opera before that, Anthony McGill also splits time in the academic sphere. A graduate of the Curtis Institute of Music, he now holds faculty positions at the Peabody Institute of Johns Hopkins, Bard College Conservatory of Music and Manhattan School of Music. In 2009, he was selected to perform alongside Yo-Yo Ma, Itzhak Perlman and Gabriela Montero at the inauguration of President Barack Obama.
Kathleen Battle (airs Feb. 21)
In November 2016, Kathleen Battle graced the Met Opera stage after a two decades-long absence. Her time at the Met ended abruptly in 1994, when she was dismissed after repeated clashes with management. Before that, she had established herself as one of the world's leading sopranos, beginning with her 1972 professional debut in Brahms' German Requiem, and her 1975 opera debut as Rosina in The Barber of Seville. The years after her Met tenure saw a return to the recording studio and collaborations with a number of artists, classical and otherwise.
Robert McFerrin (airs Feb. 22)
"I might win the damn thing, and I would not know what to do." With these words, Robert McFerrin described the bleak situation he faced as a Black opera singer in 1953. He was encouraged to compete in the Met's Auditions of the Air competition, but remained skeptical because of the few opportunities for black professional opera singers. Nevertheless he entered the competition — and won. Two years later, he became the first black man to sing at the Met. A contract followed and brief career followed. In 1958, he crossed over into Hollywood, and made his mark as the singing voice of Sidney Poitier's Porgy in the film adaptation of Porgy and Bess. 
Andre Watts (airs Feb. 23)
German-born Andre Watts spent part of his childhood in Europe before moving to Philadelphia. His Hungarian mother encouraged his development as a pianist, appropriately telling him stories about the brilliant playing of Franz Liszt. Watts' career took off when he was still a teenager, when Leonard Bernstein asked him to substitute a sick Glenn Gould for Liszt's E-flat Concerto. Watts has enjoyed a long career, and now serves as a professor at Indiana University's Jacobs School of Music.
Marian Anderson (airs Feb. 24)
Two weeks before McFerrin took to the stage at the Met, Marian Anderson made history as the first Black person in history to sing at the esteemed venue, on January 7, 1955. Before her appearance, Anderson has established herself as a concert recitalist. Her career took off in Europe, where she studied on scholarship in Britain. She also toured Scandinavia, where she attracted the attention of Jean Sibelius, who invited her to his home. But any conversation about Anderson isn't complete without mention of her 1939 concert on the steps of the Lincoln Memorial. Denied a performance by the Daughters of the American Revolution, Anderson instead sang at the Federal monument for a crowd of 75,000.
More in:
James Bennett II is a staff writer for WQXR.
The WQXR e-newsletter. Show highlights, links to music news, on-demand concerts, events from The Greene Space and more.