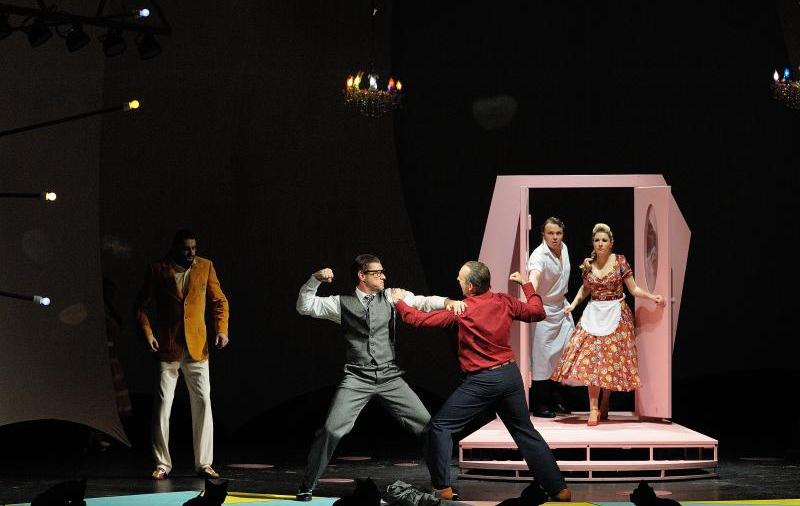 • Listen to the Operavore stream
Bohuslav Martinu (1890-1959) was among the most inventive and versatile composers of his time and that's easy to hear in Mirandolina. Like his more famous countrymen Dvorak, Smetana and Janacek, Martinu displays a musical style that's both intrinsically Czech and uniquely his own. In this charming comedy, a seductive noblewoman surprises three aristocratic suitors by falling for one of her own servants, instead.
Based on an Italian play by Carlo Goldoni, even the libretto is in Italian, written by Martinu himself. Yet, true to the composer's roots, much of the opera's infectious music is in a style that's naturally Czech. 
On World of Opera, host Lisa Simeone presents Mirandolina in a production by the National Moravian-Silesian Theatre, presented in the Antonin Dvorak Theatre in Ostrava. Soprano Katerina Knezikova sings the title role in a performance led by conductor Marko Ivanovic.
Cast:
Mirandolina: Katerina Knezikiova (soprano)
Cavaliere di Ripafratta: Jan Willem Baljet (baritone)
Fabrizio: Ales Briscein (tenor)
Count d'Albafiorita: Josef Maoravec (tenor)
Marchese di Forlimpopoli: Martin Gurbal (bass)
Ortensia: Eva Drisgova-Jirusova (soprano)
Deianira: Anna Nitrova (mezzo-soprano)
Valet: Ondrej Koplik (tenor)
National Moravian-Silesian Theatre Orchestra
Marko Ivanovic, conductor