Brahms and Schumann: Second Symphony Showdown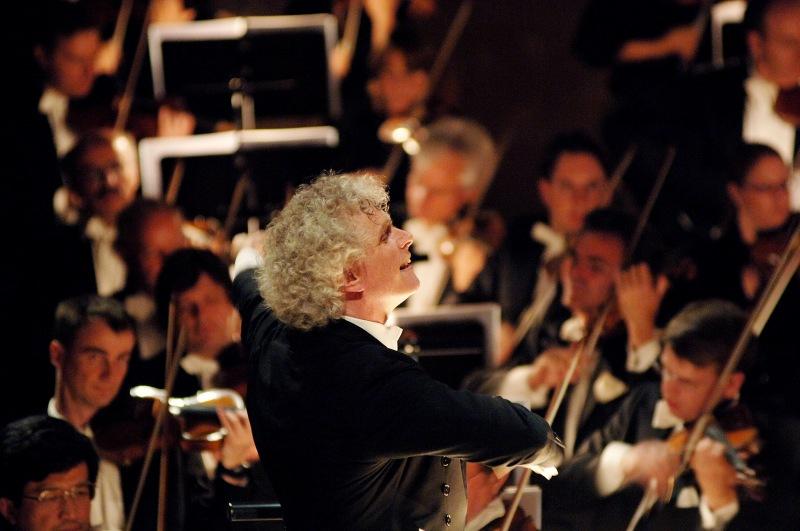 At the beginning of the 2014-15 season, Simon Rattle and the musicians of the Berlin Philharmonic challenged themselves to perform eight Romantic symphonies back to back – four by Schumann paired with four by Brahms. In fact, they performed this cycle over four consecutive nights, then repeated it over four more. And then they got on a plane and came to New York.
While here, WQXR's Jeff Spurgeon asked Rattle about the Schumann/Brahms marathon that the orchestra had just run. How had they prepared? The conductor replied that "Brahms symphonies are part of the center of what the Philharmonic does. And in fact, even one of the double basses (I mean the instruments, not the players) played the Third Symphony of Brahms under Brahms [conducting] the orchestra." Rattle added that he always admired a lion's head carved in the bass's scroll.
When the Philharmonic started rehearsing Schumann (Brahms's mentor) for the September 2014 concerts, Rattle chose a cat as a metaphor for the sound he wanted. The orchestra "often tended to play [Schumann] sounding like Brahms," he told WQXR, "[So] when we started working, I said 'I think we all want a big cat.' And the orchestra looked at me very strangely.
"'I think we want a different type of cat. You're giving me a big well-fed lion, and what I want is some kind of hunting cat, a little panther, something about to pounce, something impatient.'" Hear Schumann's second symphony, followed by Brahms's, recorded last month at the Philharmonie.
Below is a video trailer for the performance. A full video can be seen at the orchestra's Digital Concert Hall. A complementary pass for a 2-day trial is available by using the code, WQXR.
The Berlin Philharmonic's recordings are available at Arkivmusic.com and on iTunes.