Breaking Baroque: Dance Group Fuses Bach and B-Boying
Tuesday, January 10, 2017 - 10:11 AM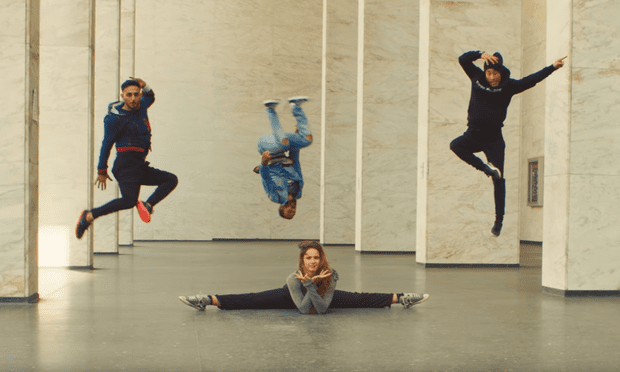 (Red Bull/Youtube)
When you listen to Bach's "Well-Tempered Clavier" you may find yourself calmly appreciating the music, but your first instinct may not be to break out into dance. Unless you happen to be Vartan Bassil.
Bassil, a German breakdancer, is the founder of the dance group Flying Steps. One of their signature performances, "Red Bull Flying Bach," sets traditional b-boying moves to the music of the "Well-Tempered Clavier."
Bassil, who founded the group in 1993, told the Washington Post he first got the idea during a parents' night for his child's school. The dancer realized that some parents didn't exactly take breakdancing seriously as an art form and at the same time school children saw classical concerts as a boring activity. So, to bridge that gap, his group partnered with Red Bull to produce a program that would bring all people together in the concert hall. Younger audiences and people new to classical music would be electrified by the breaking; hardline classical enthusiasts would learn that breakdance is still dance and is right at home with wonderful music of any style.
Although "Red Bull Flying Bach" premiered in 2010 and hit select North American cities in 2014, this is the show's first official U.S. Tour. When it premiered in May 2016 at San Francisco's Masonic Theatre, audiences were electrified by the unlikely fusion. The tour continues its run through this month, concluding in Houston on Jan. 22.
Katie Jang, a press representative for the show, said the audience reaction has been pleasing. "People are incredibly impressed by the dancers' abilities, as well as intrigued with how unique an experience this is on both the music and performance level."
If you can't make it out to one of the shows and are curious about what they look like in action, you can check out their 2011 Eurovision performance:
More in:
James Bennett II is a staff writer for WQXR.
The WQXR e-newsletter. Show highlights, links to music news, on-demand concerts, events from The Greene Space and more.