British Baroque Band Florilegium Plays Bach and Telemann
Monday, July 13, 2015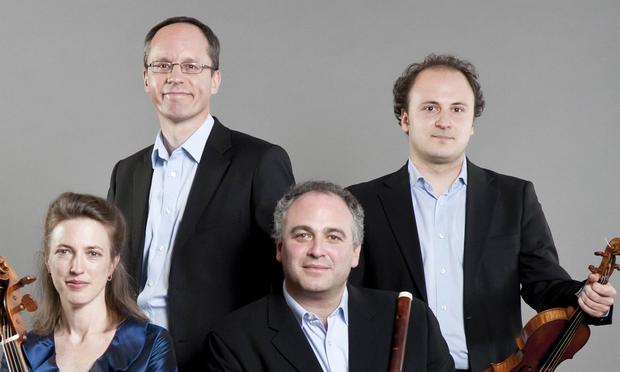 (http://www.florilegium.org.uk)
The British period instrument ensemble Florilegium returns to The Frick Collection this week to perform chamber music from the early 1700s. The program begins with an organ trio by Johann Sebastian Bach, arranged for chamber group by Florilegium.
Bach wrote the work for solo organ in three parts: one line played by the organist's left hand, another in the right hand, and a bass line to be played by the organist's feet on the pedals. Scholars believe that Bach wrote these pieces for his eldest son's music lessons. In Florilegium's arrangement, the high voices are divided between violin and flute, and the low voices are given to cello and harpsichord. The next trio comes from Bach's second son, Carl Philipp Emanuel.
On the second half of the concert, Florilegium takes us on a tour of 18th century France. First up is a work by CPE Bach's godfather, Georg Philipp Telemann. The "Paris Quartets" were inspired by Telemann's visits to the royal court in France. Then an innovative composition by French Baroque composer Jean-Féry Rebel. Written as a competition piece for the famous choreographer Marie Sallé, Les caractères de la Danse quickly explores fourteen unique dance styles in about 10 minutes.
Radio program playlist:
J. S. Bach: Organ Trio Sonata No. 1, BWV 525 (arr. Florilegium)
C. P. E. Bach: Trio Sonata in G Major, Wq 144
Georg Philipp Telemann: Paris Quartet No. 6 in e minor
Jean-Féry Rebel: Les caractères de la Danse
            Prelude–Courante–Menuet–Bourrée–Chaconne–
            Sarabande–Gigue–Rigaudon–Passpied–Gavotte–
            Sonate–Loure–Musette–Sonate
— Florilegium: Ashley Solomon, Baroque flute and director; Bojan Čičič, Baroque violin; Jennifer Morsches, Baroque cello; and Terence Charlston, harpsichord.

Online bonus:
Antonio Vivaldi: Cello Sonata in B-flat Major, RV 47

Jean Henri d'Anglebert: Prelude in D minor for solo harpsichord

Antonio Vivaldi: Flute Concerto in D Major, RV 84

Trad./ arr. by Florilegium: Bolivian folk tune (encore)

The WQXR e-newsletter. Show highlights, links to music news, on-demand concerts, events from The Greene Space and more.