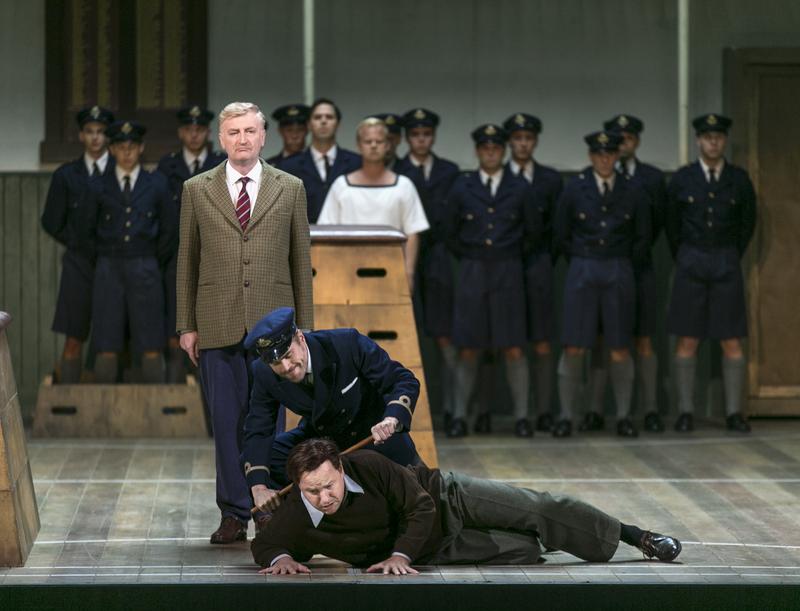 • Listen to the Operavore stream
Friday marks the 100th anniversary of Benjamin Britten's birth and World of Opera celebrates with one of his most profound dramas. Based on a story by Herman Melville, Billy Budd tells a moving story of conflicting values, the thin line between good and evil and the sacrifice of innocence.
The opera was premiered in London at the Royal Opera House, Covent Garden, in 1951. Together with Britten's earlier hit, Peter Grimes, the score is among the finest and most popular operas ever composed based on maritime stories and themes — while also exploiting complex societal issues that remain starkly relevant even today.
On World of Opera, host Lisa Simeone presents Britten's Billy Budd in a new production from the Göteborg Opera in Sweden, launched in celebration of Britten's 100th birthday. The composer was born in the seaside town of Lowestoft, England, on Nov. 22, 1913. The stars are baritone Joa Helgesson as Billy, tenor Mathias Zachariasson as Captain Vere, and bass Clive Bayley as John Claggart. 
Cast:
Billy Budd: Joa Helgesson (baritone)
Captain Vere: Mathias Zachariasson (tenor)
John Claggart: Clive Bayley (bass)
Dansker: Sven Törnell (bass)
Squeak: Jonas Olofsson (tenor)
Mr. Redburn: Mats Persson (baritone)
Red Whiskers: Joachim Ottoson (tenor)
Novice Alexander Sprague (tenor)
Lt. Ratcliffe: Marco Stella (baritone)
Mr. Flint: Anders Lorentzson (bass-baritone)
Donald: Erik Lundh (baritone)
Göteborg Opera Orchestra and Chorus
Jan Latham-Koenig, conductor