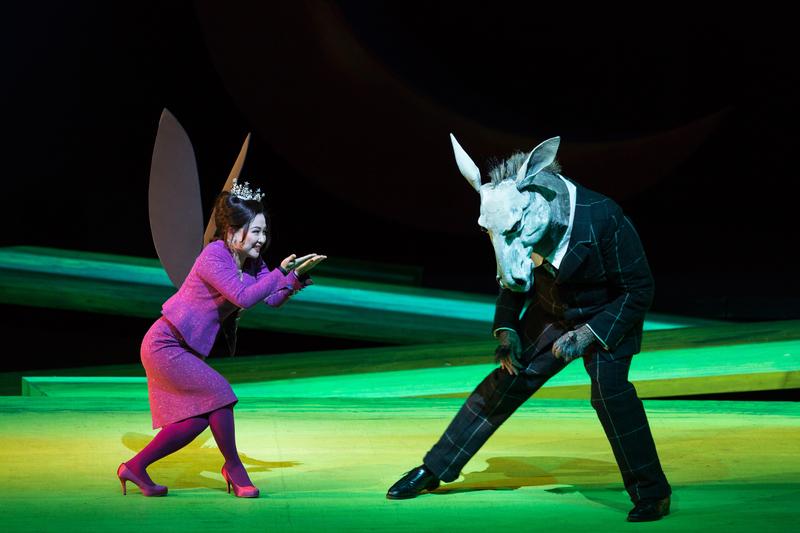 This Saturday at 1 pm, the Metropolitan Opera broadcast revisits Benjamin Britten's magical A Midsummer Night's Dream. 
Recorded earlier this year in conjunction with Britten's 100th anniversary, this production reawakens director Tim Albery's 1996 version of the Britten opera. Onstage, original set-designer Antony McDonald juxtaposes a blocky surrealist fairyland with an austere adult reality.
This revival features the lyrically vibrant Iestyn Davies as Oberon and Kathleen Kim as Tytania— king and queen of the fairies. Also, a splendid line-up of lovers: tenor Joseph Kaiser as Lysander, baritone Michael Todd Simpson as Demetrius, soprano Erin Wall as Helena and the plush-toned Elizabeth DeShong as Hermia.
James Conlon conducts this Shakespearean comedy set to Britten's striking score. 
Cast:
Conductor: James Conlon
Tytania: Kathleen Kim
Helena: Erin Wall
Hermia: Elizabeth DeShong
Oberon: Iestyn Davies
Lysander: Joseph Kaiser
Demetrius: Michael Todd Simpson
Hippolyta: Tamara Mumford
Theseus: Ryan McKinny
Puck: Riley Costello [Debut]
Bottom: Matthew Rose
Quince: Patrick Carfizzi
Flute: Barry Banks
Snug: Paul Corona
Snout: Scott Scully
Starveling: Evan Hughes
Cobweb: Seth Ewing-Crystal
Peaseblossom: Kiki Porter [Debut]
Mustardseed: Benjamin P. Wenzelberg [Debut]
Moth: Thatcher Pitkoff [Debut]