Café Concert: Zuill Bailey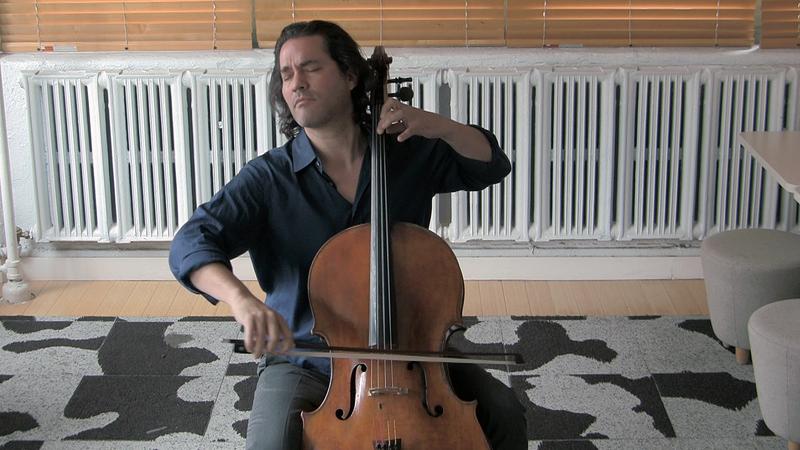 VIDEO: Zuill Bailey Plays Selections from Bach's Cello Suite No. 3
"Playing Bach – and I don't jokingly say this – is like public therapy," said the cellist Zuill Bailey, just after finishing several movements from Bach's Cello Suites in the WQXR Café. "You're feeling unbelievable one moment and you're feeling very insecure in the next.
"When you play Bach well, or you feel that it's going well, there is no greater feeling, because it's a completion of your work and your emotions."
If the wavy-haired Bailey seemed to be particularly Zen-like on this steamy July morning, he believes it may have been an after-effect of his recent time in Alaska, where since 2011 he has been the artistic director of the Sitka Summer Music Festival. "Alaska is like Bach," Bailey noted. "It makes you feel grounded and complete. It's oxygen for the soul."
Despite his relaxed manner, Bailey also an exceedingly busy artist with a wide-ranging resume. Among its highlights are nearly three-dozen recordings, from the big standard concertos (Dvorak, Elgar, Tchaikovsky) to an upcoming album pairing Bloch's Schlomo with Nico Muhly's Cello Concerto, of which he gave the U.S. premiere in 2013. The cellist frequently tries to pair well-known works with rarities in an effort to challenge audiences, albeit in modest doses.
Bailey, who is based in El Paso, TX, travels with a 1693 Matteo Gofriller, an instrument formerly owned by Mischa Schneider of the Budapest String Quartet. He becomes effusive when describing the cello, which is noticeably large and features a rose carved on top under the fingerboard. "It has a very unique sound," said Bailey. "It's very broad and bass-y and yet has the singing ability to play solo lines up top as well."
In our interview, attention eventually turned to Bailey's most unusual calling-card: his acting stint as a murderous cellist on the HBO prison series "Oz" between 1997 and 2003. Over a decade later, he believes it was important that he set the parameters of his character – who was imprisoned after stabbing a violinist with the endpin of his cello.
"They had me saying really horrible things on the show," Bailey said of the original script. "I said, 'my audience would not understand that this is fake and they would see me as that person. And I can't be that person if I'm playing a performing cellist. So my dialogue was cut down to a bare minimum." Bailey also stipulated that he be able to choose his own music, which included bits of Bach and Paganini.
Does Bailey have any more acting in his future? "I hope not," he said, laughing. "I love the idea of bringing the cello to new audiences but I'm not searching those things out."
Video: Kim Nowacki; Audio: Edward Haber; Text & Production: Brian Wise; Interview: Naomi Lewin