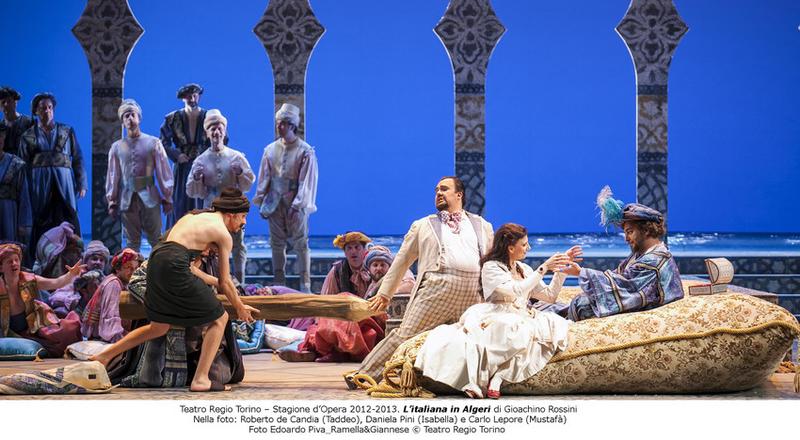 • Listen to the Operavore stream
Giuseppe Verdi's tragic drama follows a wealthy and murderous crook as he engages in a doomed romance with his cousin. It's a hot-blooded, messy affair with an array of brilliant musical numbers and arias tailored for the opera's first leading lady, legendary soprano Jenny Lind.
The plot is more than a little bit silly, but nobody uses wackiness better, more beautifully, or with a finer instinct for pure comedy than Rossini in this sparkling score.
L'italiana in Algeri translates as 'The Italian Girl in Algiers', but heroine Isabella is one of the wisest and most formidable women you'll find in any opera. Determined to be with her fiancé, captured by pirates, Isabella finds a way to command both pirates and captives in an elaborate escape by story's end. 
On World of Opera, host Lisa Simeone presents L'italiana in Algeri from the Royal Theater in Turin, Italy. Mezzo-soprano Daniela Pini plays Isabella and tenor Antonino Siragusa, Lindoro, the young man she rescues from desperate straits.
Cast:
Conductor: Daniele Rustioni
Isabella: Daniela Pini (mezzo-soprano) 
Lindoro: Antonino Siragusa (tenor)
Mustafà: Carlo Lepore (bass) 
Taddeo: Roberto de Candia (baritone) 
Elvira: Linda Campanella (soprano) 
Zulma: Alessia Nadin (mezzo-soprano)
Haly: Federico Longhi (baritone) 
Teatro Regio Orchestra and Chorus