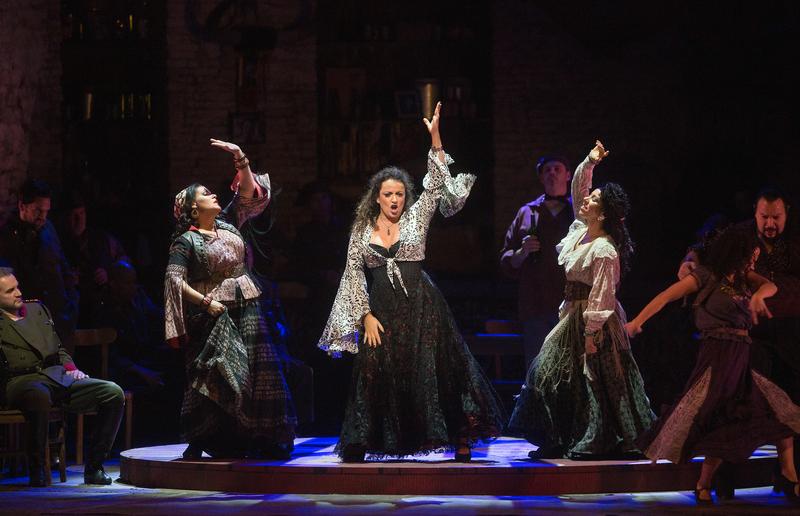 Georges Bizet's Carmen is one of, if not the most performed opera in the world. If you've somehow missed it, then be sure to tune in at 1 PM for this Saturday's edition of the Met Opera Radio Broadcast.
Over the years, Carmen has been propelled and buoyed by its past success. As discussed in this week's episode of He Sang, She Sang, conductor Asher Fisch attributes this to the memorable nature of the tunes and the demanding nature for an excellent portrayal of the story's femme fatale of a protagonist. For years, the role of Carmen has been the yardstick of excellence for rising stars, and any time a new mezzo-soprano rises to the occasion, opera buffs will flock to the theater to hear her interpretation.
Carmen is set in Seville, and even though Spain borders Bizet's France, the opera revels in its exoticism: Carmen's sensual and seductive guile, "foreign" sounding musical modes and a climactic bullfight set the tone for a captivating operatic spectacle. But it was these same attributes, combined with the "immoral" and "base" behavior of the main characters, that caused a massive scandal. It was a flop when it premiered in premiered in Paris. Bizet, who never had much success as a composer, was most likely deeply affected by the negative critical reaction. He died exactly three months after the disastrous opening night.
But history told a different story. It quickly was embraced and became an archetypical example of opera as a medium. Bizet was only 36 when he died, and we are left to wonder what other masterpieces he had in mind for the operatic stage.
Cast
Conductor: Asher Fisch
Micaëla: Maria Agresta
Carmen: Clémentine Margaine
Don José: Roberto Aronica
Escamillo: Kyle Ketelsen