Carnegie Hall Cancels Opening-Night Gala Due to Stagehand Strike
Wednesday, October 02, 2013 - 11:22 AM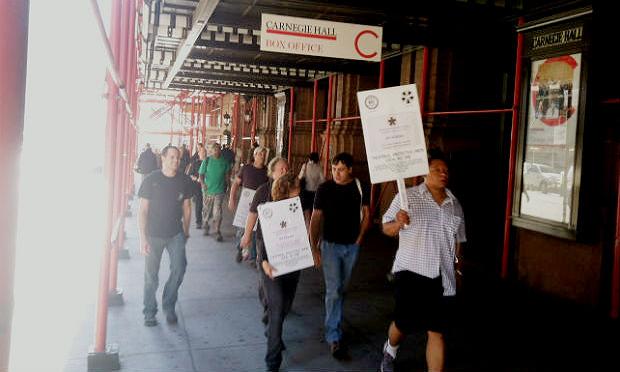 (Brian Wise/WQXR)
Updated 6:30 pm
A last-minute strike by Carnegie Hall's stagehands has forced the cancellation of the hall's opening night gala with the Philadelphia Orchestra, scheduled for Wednesday. The dispute centers over whether the union would have jurisdiction over the hall's newly-renovated education wing.
With the cancellation, WQXR's live broadcast of the gala has been called off as well. The station will present an archival episode of Carnegie Hall Live in its place.
The stagehands, represented by Local One of the International Alliance of Theatrical Stage Employees (IATSE), began picketing the hall early Wednesday morning. About 25 stagehands formed a picket beneath the marquee, chanting "no stagehands, no show." Another 50 union workers stood behind the hall holding signs. The Philadelphia Orchestra's tour truck idled on Seventh Avenue, adjacent to a giant rat placed by the administrative office doors.
One picketer, who declined to give his name, said the hall and the union had been talking for the past year over the use of non-union employees to load in equipment and instruments to the hall's new education wing, to be located on the upper floors of the building. Carnegie Hall maintains that such a wide-ranging jurisdiction would compromise its education mission. In a statement, the hall said that the union "rejected a proposed new agreement that includes annual wage and benefit increases and continued jurisdiction throughout Carnegie Hall's concert venues."
Carnegie Hall said that Wednesday night's concert will not be rescheduled and that patrons will receive refunds; a fundraiser dinner at the Waldorf Astoria will still take place. On Wednesday afternoon, IATSE announced on Twitter that it will be picketing at the Waldorf.
The Philadelphia Orchestra meanwhile will give a free concert at Verizon Hall in Philadelphia tonight in place of the Carnegie Hall gala.
This is the first strike in Carnegie Hall's history and it comes one day after New York City Opera announced it will file for Chapter 11 bankruptcy protection. Also on Tuesday, Minnesota Orchestra conductor Osmo Vänskä resigned amid a labor impasse that has dragged on for more than a year.
"This is really about the perils facing classical music in the 21st century," said New York Times classical music reporter Michael Cooper in an interview with WNYC. "It really shows you how fragile the industry is right now."
Below is a sampling of Twitter reaction. What do you think about the cancellations and disputes impacting classical music? Please share your thoughts in the comments box below.
The bad news just keeps piling up. Carnegie Hall opener tonight canceled due to strike by stage hands. Has anyone checked the sky today?

— Tim Smith (@clefnotes) October 2, 2013
Stagehands' strike cancels opening night concert/gala tonight at Carnegie Hall. What a grim week for music lovers!

— Barbara Hoffman (@BHoffman_NYPost) October 2, 2013
OK, I can take no govt, no City Opera, no Minn. Orchestra - but now Carnegie Hall's canceled its gala due to a strike? What is this, Italy?

— Justin Davidson (@JDavidsonNYC) October 2, 2013
Now tonight's opening night at @carnegiehall is cancelled due to a stagehand strike. This is a bad week all over.

— Anne Midgette (@classicalbeat) October 2, 2013
More in:
The WQXR e-newsletter. Show highlights, links to music news, on-demand concerts, events from The Greene Space and more.