Carnegie Hall, Stagehands Approve Labor Deal, Ending 2-Day Strike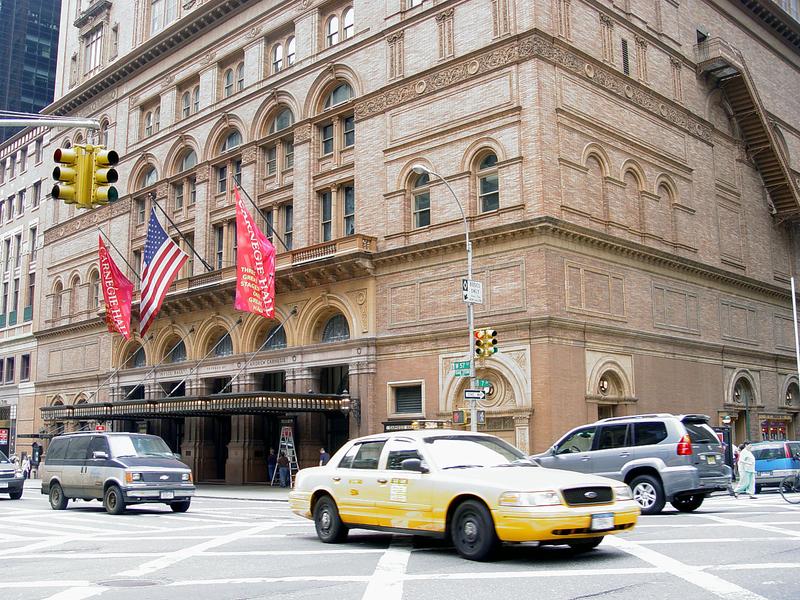 The stagehands of Carnegie Hall voted on Friday afternoon to accept a four-year labor agreement, ending an acrimonious two-day strike that began on Wednesday morning and led to the cancellation of the hall's opening-night gala concert.
Both sides said they were pleased with the deal. It includes some jurisdiction for the stagehands over Carnegie Hall's newly-renovated education wing, which had been at the center of the dispute.
A spokesman for Local One of the International Alliance of Theatrical Stage Employees (IATSE) declined to disclose the terms of the deal.
The contract stipulates a new separate IATSE/Local One agreement for the education wing, apart from the one tied to work in its three concert venues. Carnegie Hall currently employs five full-time stagehands, and also uses part-time stagehands when needed. One additional stagehand dedicated to work in the education wing will now be hired. In addition, some aspects of work in the education spaces will be handled by the current Local One stagehands.
Clive Gillinson, the executive and artistic director of Carnegie Hall, said in a statement, "Carnegie Hall is very pleased to reach this new agreement with IATSE/Local One, one that meets all of our institution's education needs as we work toward fulfilling the potential of our new spaces."
Lois Spier Gray, a professor emeritus at Cornell University's Institute of Labor Relations, said the Local One demands were not surprising. "It's been their tradition to insist on [representing] the whole venue, if you take Madison Square Garden or other venues outside of Broadway," she said.
That the Carnegie Hall stagehands have significant bargaining power can be seen in their average total compensation of over $400,000 a year – more than some of the hall's executives.
"These highly skilled people, who have a variety skills, ranging from sound to carpentry to electrical specialties, they can't be replaced easily," said Gray, who specializes in arts labor. "That really determines the bargaining power of any unit. There aren't other people out there who can move into those jobs easily."
Ripple Effects

The strike, the first in the hall's history, led to the cancellation of the Philadelphia Orchestra's Wednesday concert with soloists Joshua Bell and Esperanza Spalding. The performance, which was to be broadcast on WQXR, was called off with hours to spare.
A concert on Thursday night by the American Symphony Orchestra then proceeded as the two sides continued to talk (Local One stagehands agreed to temporarily suspend their picket and work at the concert; police barricades remained in place outside the hall).
But the strike created other ripple effects in the music business. Weekend concerts were immediately put in doubt. The presenter Distinguished Concerts International New York (DCINY) had rented Carnegie's Weill Recital Hall for a concert by the 7 Sopranos on Saturday night. When the strike was announced, Iris Derke, DCINY's general manager, began seeking an alternate venue. She went first to Merkin Concert Hall, and then turned to the Society for Ethical Culture.
"As each day has been unfolding it's been getting more stressful," Derke said in a phone interview. To complicate matters, other displaced renters had been considering the Ethical Culture venue as well, a much larger space than the 278-seat Weill. But just as she was getting ready to reserve the venue, inform ticket-holders and her artists, Carnegie Hall notified her of the settlement. (She added that Carnegie Hall was "as accommodating as possible and gave us as many options as possible.")
"Everybody's been saying, it's been a week of darkness for classical music around the country," Derke said, referring to labor troubles at the Minnesota Orchestra and the shuttering of New York City Opera. "This didn't add any hope for it at all. If anything, we're very optimistic here because we were able to move on a dime. Nothing is certain and you have to be entrepreneurial."