Carolina Eyck Wastes No Time Showing You She's a Great Theremin Player
Tuesday, March 14, 2017 - 12:40 PM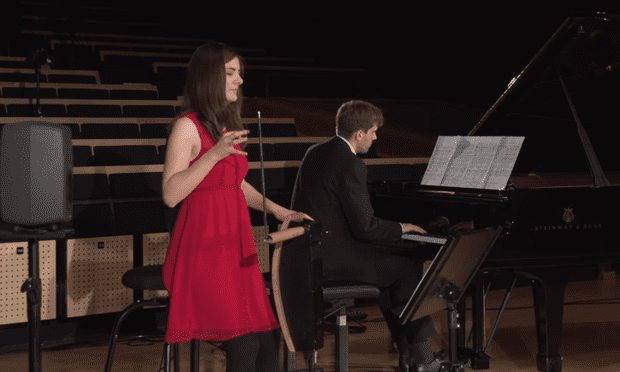 (Carolina Eyck / Youtube)
Clara Rockmore is the godmother of the theremin, that supremely fascinating instrument that you've always been dying to play with. Rockmore's advancements and contributions to the technique of the instrument helped to make it a serious instrument that could hold its own in the concert hall. For example, you know that thing theremin players do, where they pinch their thumb and index finger for vibrato? Yeah, Rockmore figured that out first. She was also a former virtuoso violinist, and she carried that dexterity from the fingerboard to the antenna. She was the world's premier theremin player, and set the standard for musicians that would follow her path.
It didn't take terribly long for other composers to begin writing music for the instrument, too, and by the mid-20th century its whizzy timbre was being used to invoke an air of mystery in movies like Spellbound and The Day the Earth Stood Still.
By now, many of us associate the theremin with sci-fi thrills. But skilled musicians like Carolina Eyck are quick to remind us of the instrument's versatility and place on the concert stage. Here she is bringing a certain tenderness to the theremin as she plays Rachmaninoff's pacific Vocalise.
And lest we become too at ease, Eyck flips around and deftly handles the electricity that makes Rimsky-Korsakov's The Flight of the Bumblebee so great. Enjoy, but don't forget to close your mouth after your jaw drops in amazement.
More in:
James Bennett II is a staff writer for WQXR.
The WQXR e-newsletter. Show highlights, links to music news, on-demand concerts, events from The Greene Space and more.