Celebrating Martina Arroyo, the Gift Who Keeps Giving Back
Thursday, February 02, 2017 - 12:00 AM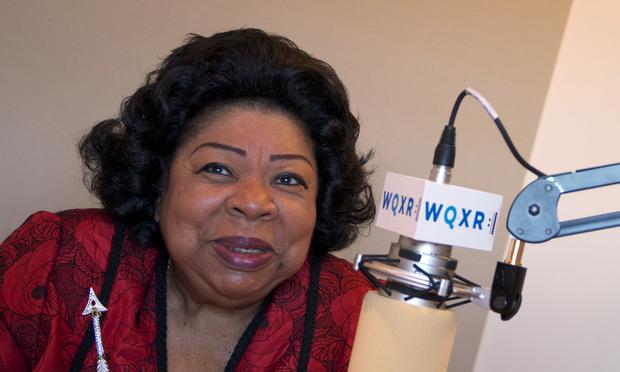 (Kim Nowacki/WQXR)
Born on this day in Harlem in 1937, spinto soprano Martina Arroyo grew up in a family that fostered artistic curiosity and inquiry. Her parents encouraged her to engage with all that New York City's finest cultural institutions had to offer. In an interview with the NEA, Arroyo recalled that because her parents were not from New York, they were "as interested and marveled at the city as I was." If she wanted to go to the museum? The whole family would come; it was as new for them as it was for her.
For all of this rich intellectual stimulation her parents encouraged, Arroyo was a latecomer to opera. It was not a fixture of her childhood, but when she discovered it, she soon after brought her parents on board — her mother was particularly awed by the art form.
Although  the music moved Arroyo and she began to study voice in college, she had her sights set on becoming a teacher, as "opera singer" was not what came to most minds as an option for a viable career. But she began to embrace that career path, and in 1958, after winning the Metropolitan Opera's Auditions of the Air contest, she made her debut for the company. But it was an offstage role, that of the Celestial Voice in Verdi's Don Carlo. There was still more work to do.
Below, watch Arroyo discuss her education, career and work with the Martina Arroyo Foundation
Because she found limited opportunities for black Americans in practically every aspect of life, Arroyo departed for Europe. She sang recitals in Austria and Germany, before finally taking to the opera stage as a principal soprano for the Zurich Opera. Two years later, in 1965, she received a call from back home. It was the Met — they wanted her to step into the title role for Verdi's Aida. A contract followed and in 1968 she sang the role of Elsa in Wagner's Lohengrin, the first black woman to do so not just at the Met, but in the entire world.
It is tempting indeed to stop here and reflect on her past roles and accomplishments: three opening performances and 199 appearances for the Met, a seat of the the National Council on the Arts, National Endowment for the Arts' Opera Honors Award in 2010, a Kennedy Center Honor three years afterwards and more. But it's impossible to speak to Arroyo's impact without discussing her plans for the future. As critic Anne Midgette noted in an earlier profile on the singer, "Arroyo does not dwell on the past, and indeed has created a vividly active present." Today, Arroyo is all about the foundation that bears her name.
The Martina Arroyo Foundation provides comprehensive dramatic training for a young crop of opera singers. "I had heard and seen over the years," Arroyo said in an interview with FLATT magazine, "even with my generation, many singers that didn't make me believe their character." Arroyo believes that in opera training, acting often takes a back seat to the music. While the technicalities that go into soaring arias are undoubtedly important, opera is just as much about acting the part.
Just as she learned to embrace this aspect of performance from talented mentors, she believes it her duty to impart that same wisdom to the next generation. Arroyo once told WQXR's Midge Woolsey, "it's our duty to work with the young people that are coming along, because there are no books to teach you how to become a good opera singer... that's our responsibility, and if we don't do that we're only doing a part of our job." Her enthusiasm alone makes her prefect in this capacity. After all, it's her who once said, "opera is life."
More in:
James Bennett II is a staff writer for WQXR.
The WQXR e-newsletter. Show highlights, links to music news, on-demand concerts, events from The Greene Space and more.