Celebrating the Music of Augusta Holmes
Tuesday, December 20, 2016 - 12:00 AM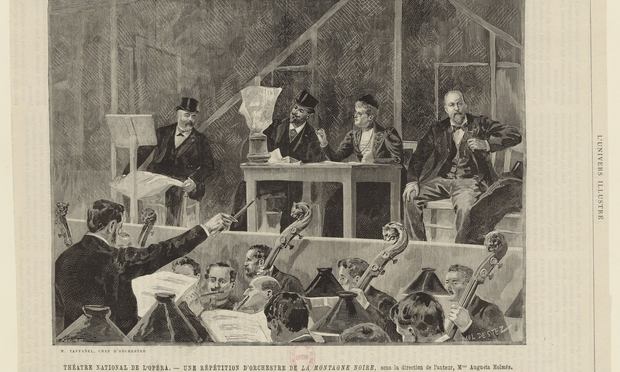 (National Library of France)
With the assistance of some futuristic medical technology, Sunday would have been the 169th birthday of French composer Augusta Holmès. Though famed during her life, she has since fallen out of popularity. But that won't stop us from celebrating her beautiful music.
 Augusta Holmès had quite the life. She was born in 1847 to Irish parents, but spent much of her life in France. By the time she died in 1903, Holmès had written 12 symphonic poems, four operas and well over 100 songs. You'd think that someone with such a mighty musical output would have grown up in a musical family, but that wasn't the case for Holmès. Her mother was a painter and her godfather was the famed poet Alfred de Vigny. But somehow, for all her family's artistic pursuits, they were totally uninterested in music. When she was 11, Augusta's mother died. As it turned out, Mother Holmès was the most critical of her daughter's musical interests and once she passed, the younger Holmès began her musical career in earnest.
Fast forward 10 years. After a decade of private lessons, songwriting and salon performances, she took a trip with the poet Catulle Mendès and his wife Judith Gautier to see Richard Wagner's Das Rheingold. It was there that Holmès fell in love with opera — and with Mendès. The two went on to have a lengthy affair, as well as five children. In a strange twist of fate, a disproving Gautier wound up having her own affair, with none other than Wagner. Funny how those things work out.
Holmès never married and when her father died she was the sole heir to his fortune. As a woman in 19th century France, this meant she was bound to no man, could publish under her own name and finance her own career. She began taking lessons with Cesar Franck and her output of orchestral music began to take off. The years following her time with Franck saw such great works such as the stately Pologne and the dramatic Irlande. In 1900, she was commissioned to write a piece for the World's Fair in Paris. She took the task extremely seriously and wrote Ode triomphale, a behemoth that requires 900 singers and a 300-piece orchestra. She also had an impact on her teacher. Franck formally dedicated his Piano Quintet to Saint-Saens, but it was no secret the talented Holmès was on his mind while he wrote it.
Holmès' music isn't as readily available as those of her male contemporaries, but it is continuing to make appearances on classical compilations. Here's to hoping we can hear more of it in the future. Until then, listen to Irlande, an ode to her ancestral homeland. Happy belated, Augusta. 
More in:
James Bennett II is a staff writer for WQXR.
The WQXR e-newsletter. Show highlights, links to music news, on-demand concerts, events from The Greene Space and more.