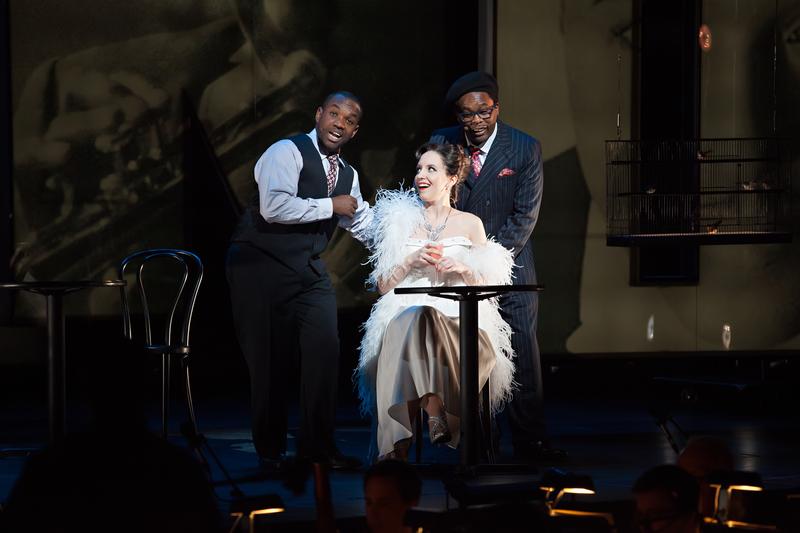 Listen above to Charlie Parker's Yardbird recorded live at Harlem's world famous Apollo Theater. Daniel Schnyder wrote the score to a libretto by Bridgette A. Wimberly. Superstar tenor Lawrence Brownlee sings the role of Charlie Parker.
Opera Philadelphia commissioned an opera that would showcase Brownlee, and composer Schnyder saw a parallel between Brownlee's virtuosic singing and Parker's virtuoso saxophone playing.  The opera premiered in Philadelphia in June 2015, and this performance of Charlie Parker's Yardbird is the New York premiere. This is also the first time an opera has been presented on the Apollo stage.
The story takes place during the three days between Charlie Parker's death and when his body was discovered. The ghost of Charlie Parker sits in a kind of "time globe," musically and historically, experiencing the past, present and future simultaneously.
Host Terrance McKnight spoke to Daniel Schnyder about the process of composing Charlie Parker's Yardbird:
Cast:
Charlie Parker: Lawrence Brownlee
Addie Parker: Angela Brown
Chan Parker: Emily Pogorelc
Doris Parker: Elena Perroni
Rebecca Parker: Chrystal E. Williams
Dizzy Gillespie: Will Liverman
Baroness "Nica" De Koenigswarter: Tamara Mumford
Opera Philadelphia Orchestra
Corrado Rovaris, conductor