Chiara String Quartet Forgoes Sheet Music to Play by Heart
Thursday, August 25, 2016 - 12:00 AM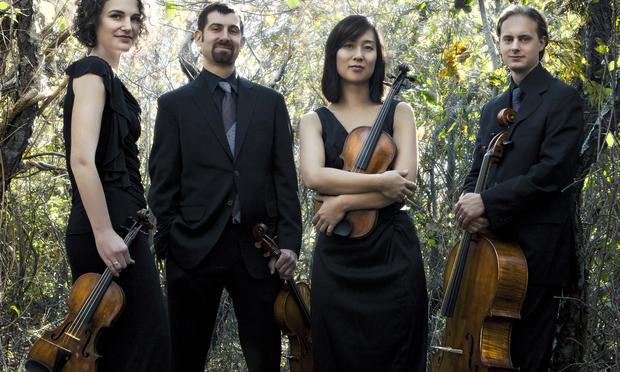 (Lisa-Marie Mazzucco)
When the Chiara String Quartet performs all of Bartok's six string quartets by heart next week at National Sawdust in Brooklyn, it believes it will accomplish a feat no other group of musicians has ever attempted.
Playing music strictly by memory is nothing new for the Chiara, however. The quartet — which was established in 2000 by violinists Rebecca Fischer and Hyeyung Julie Yoon, violist Jonah Sirota and cellist Gregory Beaver — gradually began to perform select pieces without sheet music at concerts in 2011.
Then, as a group, they decided in 2014 to start memorizing all of their pieces. Fischer said the musicians reached this decision, in part, because playing this way "helps us be connected to each other on stage. We're freer, more spontaneous in performance. It helps us get to know the music on a deeper level."
"We're very analytical by nature, we like to get to the essence of things, pick them apart. Playing by heart allows the intuitive side of the brain to play in a much more visceral, intense way," Beaver said.
In 2014, the quartet released the CD, Brahms by Heart, featuring the composer's string quartets and String Quintet No. 2 in G Major, Op. 111, with violist Roger Tapping. For the 2015–16 season, all of the music at its concerts was performed entirely from memory, a first for the quartet. Its Bartok by Heart CD, to be released Aug. 26, will feature this composer's six string quartets — approximately 2 hours 30 minutes of music — that they have committed to memory and will perform in Brooklyn on Aug. 30 and 31.
So how do these four musicians pull off this challenging feat?
Sirota said each musician takes three or four measures at a time, reading it, mentally playing through it in his or her imagination before actually performing it without looking at the sheet music. Then the process is repeated, which he described as "tedious back and forth work."
Once these smaller sections are mastered, the next step is to string them together into longer passages, according to Sirota. The entire process is replicated by the four members of the quartet, who not only have to memorize their own part, but the other three lines as well. The musicians jointly "test for junctures in the music that give us trouble. We rework it until it feels waterproof," he said. 
While refining this process over time, Sirota — who admits he ordinarily has problems remembering dates and people's names — said he's been surprised by how many types of memory exist: memory of pitches in the music; muscle memory or "where the fingers need to go, the angle of the arm"; and structural memory or "how the piece is put together, how it's performed." 
"We try to build multiple redundant memories into the work, so if one form of memory falters, we have another form to fall back on," he explained.
The exercise is not a gimmick, but has rather improved the connection among the four Chiaras. Before the quartet began playing exclusively from memory, their music stands literally "got in the way," said Yoon. 'Our communication now is much more with each other."
Sirota added that the memorization process requires quartet members "to be very supportive and understanding of each other in the work that we do. We'll keep working until everybody's comfortable."
However, getting to this point of comfort with one composition — not to mention six — requires significantly more planning than if the group could rely on sheet music. Beaver said it can be difficult to estimate how long it will take to memorize pieces and "feel safe" performing them publicly. Thus, the quartet will stage informal concerts to rehearse pieces before performing them in venues like National Sawdust. It will also generally only unveil one new piece per concert, with previously memorized work filling out the rest of the program.
"We constantly have to triage, decide what results in the highest level of performance. It's a constant puzzle," Beaver said.
But the process has been quite fruitful in the case of the Bartok project. Early in his career the Hungarian composer Bela Bartok (1881–1945) found inspiration in the folk music of Europe, Asia Minor and North Africa, which he recorded and transcribed into Western music notation. Much of this music had not been written down, "instead passing from generation to generation, directly from the singer to the hearts of the next generation and on again," according to the Bartok by Heart CD liner notes. "When the Chiara Quartet began working on memorizing the Bartok quartets, we found that this process worked in reverse almost magically. Many of the devilishly difficult passages in his music became natural when performed without printed music. Although the work of memorizing is far more involved than just learning the pieces by printed music, the reward is substantial: through the memorization process we are able to return Bartok's music to the realm of unrecorded folk music he so lovingly captured."
In addition to performing the six Bartok string quartets from memory at National Sawdust, the Chiara Quartet will also perform the complete cycle from memory at the Ravinia chamber music series  in Highland Park, Ill. Sept.  7 and 8.       
More in:
The WQXR e-newsletter. Show highlights, links to music news, on-demand concerts, events from The Greene Space and more.