The Complicated History of Marian Anderson's Met Debut
Monday, February 27, 2017 - 06:13 PM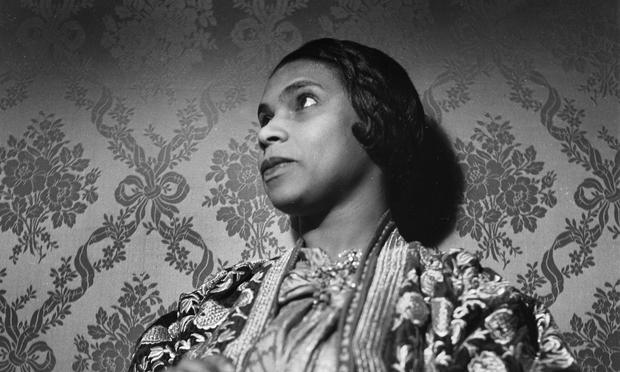 (Photo by Gaston Paris/Roger Viollet/Getty Images)
On Jan. 7, 1955, Marian Anderson became the first black person to sing at the Metropolitan Opera. While some of us may be aware of that singular fact, much of the nuance and symbolism is lost in the story.
Those who saw Anderson perform during her peak only saw her in concert settings; the recital stage was home. Anderson was no stranger to soaring arias — and often incorporated them into her work — but lieder, European art song and Negro spirituals formed the bulk of her concert repertoire. It's a stretch to say the contralto had a fraught relationship with opera, because it was virtually nonexistent. During her time in Europe she was courted by a number of opera companies including those in Paris and Geneva. Back home, the National Negro Opera Company expressed the sincerest of interests. But it was perhaps Moscow that put in the most effort to get her to work with the company. Music educator William McClain Cheatham notes that the Moscow Theater founder Konstantin Stanislavsky offered Anderson private study of Carmen and was willing to give her all the time she wanted for rehearsal. He showered white lilacs upon her, begging Anderson to be his Carmen. But, like every other company, Anderson resisted Moscow's advances.
Why would such a highly in-demand talent shun the grandest vocal stage? Throughout her life, Anderson claimed it was because she lacked the dramatic training she felt was necessary to succeed in the opera world. McClain takes it one step further and argues that two other factors were to account for her aversion to opera. The first was her voice type: there aren't too many main roles for contraltos in the repertoire. The second has to do with her intensely private nature. Because Anderson was so wary of outsiders —she preferred to work only with those she knew and kept her personal life as personal as possible — a life in the public eye would have been completely out of the question.
Anderson's famous concert on the steps of the Lincoln Memorial was the turning point in her career. Because the Daughter's of the American Revolution forbade her to use Constitution Hall as a venue because of the color of her skin, she decided to hold a public performance for 75,000 people. Anderson was already considered a world-class talent at that point, but the event heightened her public profile even further. That was the event that made her possible. It thrust her onto a stage larger than any an opera company could create — the fight for civil rights.
In 1950, the Metropolitan Opera came under the direction of Rudolf Bing, who realized that the arts would need to step up their efforts and try to make the world a better place by fighting against the heinous discriminatory practices that were so pervasive in the American arts scene. He set his sights on Anderson. But breaking barriers is rarely spontaneous; Anderson's debut was the result of careful planning. For instance, Bing ensured that it would be Dmitri Mitropoulos who conducted during her performance. Mitropoulos and Anderson had worked together before, and Bing thought that having him present would remove some of the pressure off the superstar singer. And throughout the whole process, Bing kept the members of the Metropolitan Board in the dark, until after Anderson had signed; until there was nothing they could do about it.
***
Quick — what role did Anderson sing in her Met debut? It was Ulrica, in Verdi's Un ballo in maschera. Ulrica is a divining witch who Verdi expressly noted should be portrayed as a "negro," and the nuanced connection between a darker skin color and stereotypically ancient, heathen practices are hard to ignore. The racial politics surrounding Bing's decision to cast Anderson for the role are hairy — we take joy in knowing that Anderson was the first black person to sing at the Metropolitan, but in today's climate it's hard to look at that performance without finding fault. This decision, as noted in Bing's own memoirs, was carefully calculated; it is not difficult to see why the director deliberately chose Ulrica as Anderson's first role. It was a move to make her surprise appearance somewhat more palatable.
Verdi's fortune-telling character is actually based on a true historical figure, Ulrica Arfvidsson, a medium who was widely known among the court of King Gustav III. Verdi's original work drew the ire of censors, who suggested the setting be moved to a more distant era more congruous with what were perceived as "backwards" beliefs, far removed from the Christian tradition. The censors imagined an old Celtic backdrop, but Verdi kept it contemporary and moved his character across the Atlantic to Boston, Massachusetts. The character would be a black woman. However, the unique hatred and separation that kept black people out of opera houses across the country meant that, traditionally, white women singing Ulrica would often blacken their skin. Bing would have seen Anderson's casting as a perfect fit because it would have projected an image of progressiveness without transgressing upon the politics of the era. There was no way he would offer her a non-racially charged supporting role, let alone a lily-white lead. The first black woman on the Met Stage was type-cast, and it's that detail that's often left out of discussion.
The ground-shaking impact Anderson had on that stage is undeniable. Though past her prime, her presence indicated to a generation of aspiring vocalists of color that they too could grace the stage of one of the nation's most prominent opera houses. Anderson's work paved the way for a number of great singers: Grace Bumbry, Leontyne Price and Jessye Norman are but a few of the talents who would go on electrify the Metropolitan in the years to come. But as we reflect on her life and work, we mustn't allow those deeper struggles to be lost in the success of her story. Understanding the entire situation  — the beauty as well as the ugliness — allows us to appreciate her achievements all the more.
More in:
James Bennett II is a staff writer for WQXR.
The WQXR e-newsletter. Show highlights, links to music news, on-demand concerts, events from The Greene Space and more.