Conductor, Horn Player Seek to Modernize Orchestras with Google Glass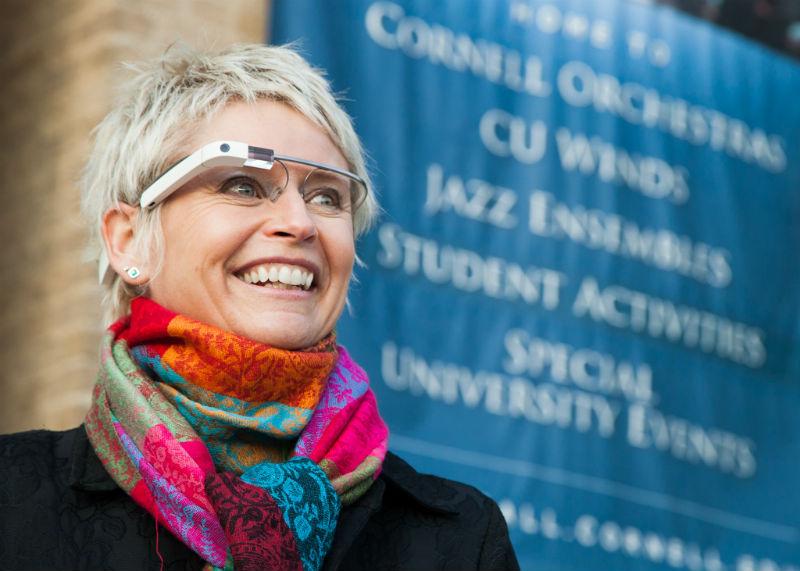 Google Glass, the hands-free eyewear that functions similarly to a smartphone or a laptop, is still in its testing phase but some far-reaching uses are emerging. It's being employed as a speech tool for people with disabilities, as a way for surgeons to video stream knee surgery, and as an illicit gambling aid for blackjack players.
In classical music, a field not always known for leading-edge experimentation, some musicians are finding other novel applications. Since June, Cynthia Turner, a conductor and music professor at Cornell University, has been sporting the $1500 Glass as a teaching tool and increasingly, an enhancement to the concert experience.
In a demonstration last week at Cornell's Manhattan offices, Turner showed how the eyewear – which can shoot pictures and video, make calls and access the web – enables her to film students in her conducting lab as a way of providing feedback.
Previously, the professor would set up a bulky tripod in the rear of the classroom, film the lessons and then upload the videos. With Google Glass, however, Turner has the ability to film anything using the device's point-of-view camera. "The videos are not stagnant," she explained. "I can go up to the student and adjust something on the shoulder or the hand. They see what I'm doing and hear the results hopefully." After class, she plugs in her Glass to a network connection, clicks "share," and uploads the videos to a Google-Plus community. "It takes five minutes instead of 90."
More intriguing from an audience standpoint is the potential to livestream the conductors' point of view onto a screen above the orchestra. "They'll occasionally see my baton, or my hands, or my music," Turner said. "But more importantly, they would see the musicians who are making all the sounds."
There are still obstacles to making a "conductor-cam" pleasing for the viewer. Audiences could grow nauseous while being subjected to the constant movement of Turner's head. "I have to curb my enthusiasm," she said. The other issue is latency: there's a broadcast delay of about a second. "That's another bar of music. It's a serious problem." (A concert by the Cornell Winds on November 22 is to give a taste of where things stand.)
But Turner's real vision involves apps. Working with Tyler Ehrlich, an undergraduate student at Cornell, she has been developing ways to embed a score in Glass, which could replace a paper score and music stand altogether. "If a conductor could have music in the glass going by as it was happening in rehearsal or performance that would completely get rid of the notion of a big music stand," she said. As she later wrote on Twitter, it would likely require a new type of notation that fits within the parameters of the eyewear.
We are thinking about designing a new way to notate music on #GoogleGlass. We are calling it a "salient" score. (Maybe)

— cynthia j turner (@cjt8) October 23, 2013
The Glass has its drawbacks. Currently, there's only about 17 minutes of recording capability, so one can't capture a full concert, or even many symphonic works. The device has prompted concerns about privacy (or simple etiquette) when it comes to recording people without their knowledge.
There is also the question of "looking like a Cyborg," said Sarah Willis, an American-born horn player in the Berlin Philharmonic, who also won a contest to receive a test version of Glass in February.
"I'm finding I'm getting very strange looks when I do wear it," Willis said in a phone interview from Berlin. "It's a mixture of excitement, curiosity and sometimes disgust. Google doesn't have a lot of good press here in Germany." The Berlin Philharmonic has its own Internet distribution deals, so Willis doesn't currently use it in the orchestra. But she has worn it to stream master classes or brass ensemble performances, some of which are archived on her website.
Willis believes that the Glass – which is expected to go on sale next year – can bring new attention to classical music. And for daily use, it has the potential to aid in distance learning. With a horn, you can only see the players' fingers, but "for a violinist you can see the hands and arms," she noted. "In a live video conference call, you'd get an incredible view of what the teacher is trying to demonstrate."